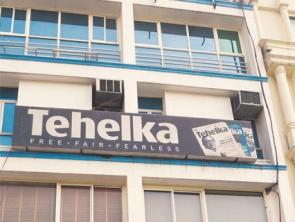 Senior Bharatiya Janata Party leader Sushma Swaraj on Wednesday lashed out at the Congress, saying a Union cabinet minister is "shielding" Tehelka Editor Tarun Tejpal, who is accused of sexually assaulting his junior.
Without naming anyone, the Leader of the Opposition in the Lok Sabha tweeted, "Union Cabinet Minister who is the founder and patron of Tehelka is shielding Tarun Tejpal."
The Congress and BJP have been involved in a slugfest over the issue. Rejecting Tejpal's demand that the sexual assault case against him be handed over to the Central Bureau of Investigation, the BJP had said that he might use this as an "escape route" as he is close to the ruling Congress.
On Tuesday, BJP leader M Venkaiah Naidu had said, "This (plea to give case to CBI) can be an excuse. It may be an escape route to get away... the Congress likes Tejpal and he likes the Congress."
The Congress, however, rejected BJP's contention and claimed that there is no reason why this issue should be linked to politics. Party spokesperson P C Chacko drew parallels of this case with the snooping scandal allegedly involving Gujarat Chief Minister Narendra Modi.

Image: The Tehelka office in New Delhi