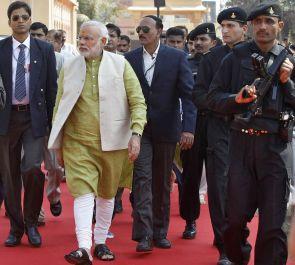 Prime Minister Narendra Modi pulled up a Special Protection Group commando on Thursday for coming in the way of television cameras.

The incident took place when Modi got down from his BMW car at the main entrance of Vigyan Bhavan. As the SPG commando opened the PM's door, the television crew focussed on the prime minister. The SPG commando came in between while Arun Jaitley was giving a bouquet to the PM. That was not captured properly by the TV crew.
On this, the PM rebuked the commando in front of the cameras and asked him to keep his distance.
The SPG director is believed to have instructed the commandos to evolve a different strategy to protect Modi which would serve twin purposes. To keep the prime minister in the glare of television cameras and connect with the public -- at the same time ensure full protection against all threats.