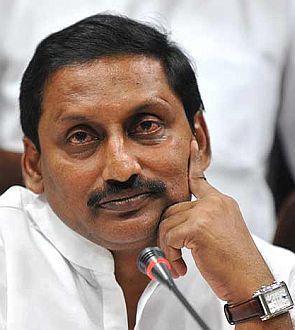 With no debate whatsoever happening on the Telangana Bill in the Andhra Pradesh assembly, Chief Minister Kiran Kumar Reddy is once again set to seek a four-week extension of the deadline to discuss and submit a report on the Bill.
The deadline for the assembly ends on Thursday, and it appears that President Pranab Mukherjee will go ahead and consent the same without the assembly approval.
Chief Minister Reddy is in a very difficult situation.

Kiran Reddy is under immense pressure from his colleagues in the state to step down and form a new party. However, he wants to play it safe and is aware that he stands nowhere in case he quits the party.

Critics also told rediff.com that Reddy does not enjoy the rapport with voters in Rayalseema.
The chief minister has been under fire from the Telangana MLAs in the assembly for introducing a resolution opposing the Bill without consulting them.

Reddy, however, is aware that this debate is going nowhere and hence has once again decided to adopt a delaying tactic.

He will once again write to the President seeking an extension though, in all likelihood, it is going to be rejected.
The Congress, meanwhile, has a lot of work on hand in Andhra Pradesh.

Several exit polls predict that the Congress may secure just 3 seats in the state in the 2014 Lok Sabha elections. In Rayalseema, it would be a Jagan Mohan Reddy show all the way thanks to the formation of Telangana.

The Congress is finding it hard to garner support from the people in Telangana as well. While the results of Telangana remain sketchy many would say that the TRS would gain. However, the Congress is clinging on to the hope that people in Telangana may vote for the party out of gratitude.

The flip side for the Congress is that the TRS has been chanting that the state is being formed because of them and that they have spearheaded the movement. The Congress is pushing hard to form an alliance with the TRS, but for the moment, the latter has told the Congress that the doors are closed