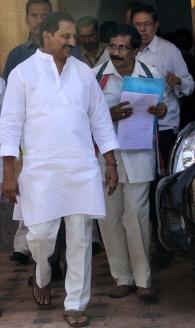 The financially cautious Kiran Kumar Reddy is not too keen to fund a brand new political party, says Vicky Nanjappa
Andhra Pradesh Chief Minister Kiran Kumar Reddy is expected to float a new party once the debate on the creation of Telangana gets over on January 23.
Reddy is under a great deal of pressure to quit the Congress before fighting the elections in Rayal-Seema.
While the Congress high command is keeping a tab on Reddy's diatribe against the bifurcation of Andhra Pradesh, the wily CM is doing his best to get expelled by the party so that he can rake up a few more sympathy votes.
According to Reddy's colleagues, the financially cautious CM is not too keen to fund a brand new political party. He will agree to launch a new political party only if he finds people eager to fund the outfit, they say.
Reddy is also regarded as a loner in the state's political circles and he doesn't have much mass appeal. But anti-Telangana activists believe that if the CM steps down from his post to protest the division of the state, it would be a considerable setback for the movement for the creation of Telangana.
Pro-Telangana activists, however, dismiss such speculations.
"Leaders from Rayal-Seema are confused. They are fully aware that Telangana is going to be a reality and by February, Parliament will pass the requisite Bill. Only leaders from the Congress and the Telugu Desam Party from Seema-Andhra want to stall the formation of Telangana," said Madhu Yashki Goud, a Congress Member of Parliament from Telangana.
He added that the political leader who "wanted Telangana the most" was YSR Congress chief Jagan Mohan Reddy.
"He has closed his doors in Telangana and is banking heavily on Rayal-Seema. He is in deep trouble if the bifurcation does not happen, so he is secretly rooting for it," said Goud.
Pro-Telangana activists are hopeful that the Bill will be passed in Parliament without further ado in February. The Bharatiya Janata Party, which has thrown its weight behind the Bill, does not want it to be delayed any further.
The saffron party wants the state to be created while a Congress-led government is in power at the Centre. For all its so-called support for the creation of Telangana, the BJP does not want to handle the onus of passing the controversial Bill.
Image: Andhra Pradesh Chief Minister Kiran Kumar Reddy ' Photograph: SnapsIndia