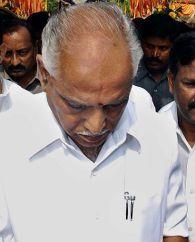 The process of inducting former Karnataka chief minister B S Yeddyurappa back into the Bharatiya Janata Party is expected to take another month. The first stumbling block for the BJP in Delhi was BJP MP Ananth Kumar and now it is BJP patriarch L K Advani.
Ananth Kumar was coaxed by BJP president Rajnath Singh for his consent in the larger interest of the party in Karnataka.
Kumar was asked to convey this to his supporters in Karnataka that the induction of Yeddyurappa into the BJP was is in the interest of the party and he had no objection to it.
Rajnath Singh has said he would convince LK Advani to accept the return of Yeddyurappa. This would be done at the Parliamentary Board meeting of the BJP, which is scheduled to be held at the end of the month.
Yeddyurappa has shown inclination to get back into the BJP. He has said that he wants the Karnataka Janatha Party to ally with the BJP or NDA, but his aides told rediff.com that he would be happier to be back in the BJP.
Although Yeddyurappa has been bargaining for the post of party president, he is not expected to push that demand too hard but focus on the general elections.
His main condition, however, is to accommodate all his followers who had left the BJP with him to join the KJP.