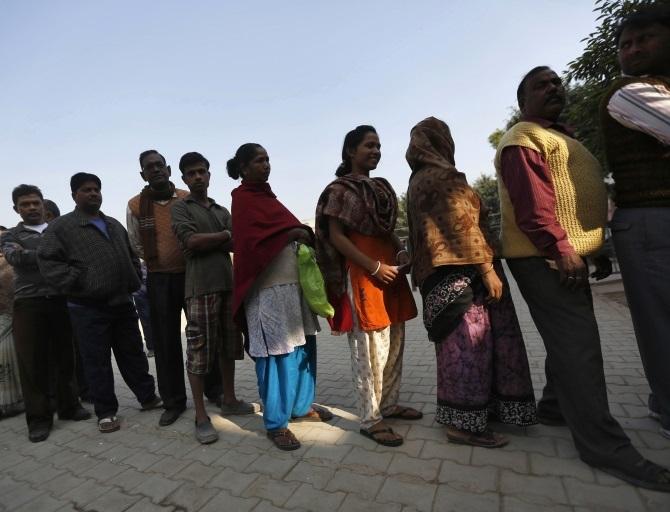 With Delhi witnessing the highest-ever voter turnout, women may turn out to be game changer for political parties as they came out in large numbers to cast their ballots.
While in several constituencies, women voter turnout percentage was almost equal to men, it was higher than men in Kirari, Chattarpur, Sangam Vihar, Tughlaqabad, R K Puram, Ballimaran, Moti Nagar, Palam, Delhi Cantt and Rajendra Nagar.
The national capital registered its highest-ever voter turnout of 65.86 per cent in the keenly contested assembly polls.
As high as 65.17 per cent women (34.6 lakh) cast their ballot in the three-cornered contest among the Congress, the BJP and the debutant Aam Aadmi Party, an increase of nine per cent from last Delhi assembly elections.
In 2008 Assembly polls, the overall voting percentage was 57.58 while voting percentage of men and women stood at 58.34 per cent and 56.62 per cent respectively.
Out of 1.19 crore eligible voters including 66.1 lakh men and 53.2 lakh women, over 78.1 lakh people exercised their franchise on Wednesday.
With security, safety and inflation being the main issues for them, women, including youngsters, housewives, professionals and elderly, went out of their home to cast their vote.