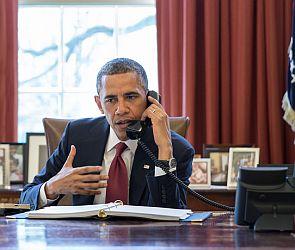 President Barack Obama has denied that the United States has a domestic spying programme but said the work done by the National Security Agency is a "critical component" in keeping the country safe from outside threats.
"We don't have a domestic spying programme. What we do have is some mechanisms that can track a phone number or an email address that is connected to a terrorists attack... That information is useful," Obama told NBC channel on Tuesday night.
According to a White House pool report, he said government surveillance is a "critical component to counterterrorism." But, Obama said, he knows that the surveillance programs have "raised a lot of questions for people." Responding to question on closure of embassies and consulates in the Middle East and North Africa, Obama said the US is not overreacting.
People can still take vacation, just do so in a "prudent way" by checking on the State Department Websites for up-to-day information before making plans, he said. "The odds of dying in a terrorist attack are a lot lower than they are of dying in a car accident, unfortunately," Obama said.
"We don't know exactly what he (Snowden) did, except what he said on the Internet and it's important for me not to judge," Obama said responding to a question on Edward Snowden, who is sought in the US on espionage charges and has been given temporary asylum by Russia.
Obama said he has asked his staff to look at ways to reduce the number of contractors. On the Russian decision to give temporary asylum to Snowden, despite his administration's request that he be returned to the US, Obama said he is disappointed.
But he said the two nations still work together on Afghanistan and the Boston bombing. "There are times when they slip back into Cold War thinking and Cold War mentality. What I continually say to them and to President (Vladimir) Putin, that's the past," Obama said, adding that he would be attending the G-20 summit in St. Petersburg, Russia.
He does not think that the gay rights controversy there will affect the Olympics.