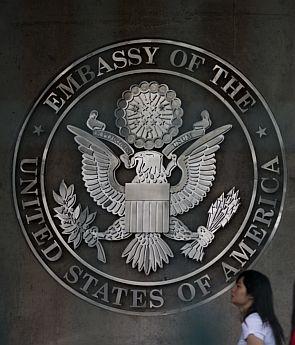 The United States has extended closure of 19 diplomatic missions in the Middle East and north Africa till August 10 as a precaution after it intercepted Al Qaeda's most serious threat in recent years to target its embassies.
The United States initially closed 22 diplomatic posts for the day on Sunday.

The State Department last week issued a worldwide travel alert warning Americans that Al Qaeda may be planning attacks in August, particularly in the Middle East.
A State Department official asserted that this was not an indication of a new threat stream, but merely an indication of US commitment to exercise caution and take appropriate steps to protect its employees and visitors to its facilities.

"Given that a number of our embassies and consulates were going to be closed in accordance with local custom and practice for the bulk of the week for Eid celebration at the end of Ramadan, and out of an abundance of caution, we've decided to extend closure of several embassies and consulates, including a small number of additional posts," State Department spokesperson Jen Psaki said.
However, a top military commander said that the US has intercepted Al Qaeda plot to target not only Americans, but also citizens from Western countries.

"There is a significant threat stream, and we're reacting to it," General Martin Dempsey, Chairman of the US Joint Chiefs of Staff, told the ABC news. "That part of it is unspecified. But the intent seems clear. The intent is to attack Western - not just the US - interests."

Congressman Charles Albert Ruppersberger said the terror threat is credible and is based on intelligence reports.

"We can only say the intelligence that we get. And, by the way, intelligence is the best defence against terrorism. Those operatives are in place because we've received information that high-level people from Al Qaeda in the Arabian Peninsula are talking about a major attack. And these are people at a high-level," said Ruppersberger, who is ranking member of the House Intelligence Committee.
"Now, whatever that intelligence is, we act upon it because our first priority, again, is to protect the Americans in other parts of the world," he added.
"We know that Al Qaeda and other people out there want to attack us and kill us and our allies. The good news is that we've picked up intelligence. And that's what we do. That's what NSA does," said Ruppersberger.

"NSA's sole purpose is to get information and intelligence to protect Americans from attack," he said.

According to the intercepts, Al Qaeda operatives could be heard talking about an upcoming attack, ABC news reporters said, quoting an unnamed official.
He described the terrorists as saying the planned attack is "going to be big" and "strategically significant.
"The part that is alarming is the confidence they showed while communicating, and the air of certainty," the official said, adding that the group Al-Qaeda in the Arabian
Peninsula appeared to have a media plan after the attack.

Authorities do not know the exact target of the planned attack. "We do not know whether they mean an embassy, an airbase, an aircraft, trains.
The official said that there is concern about devices that could be implanted inside the body of a terrorist.
"We are concerned about surgically implanted devices. These are guys who have developed the techniques to defeat our detection methods," he said.
The official was quoted that they were stunned that the group broke 'operational security', meaning they talked likely knowing it would be picked up by intercepts.
Meanwhile, the US missions in Abu Dhabi, Amman, Cairo, Riyadh, Dhahran, Jeddah, Doha, Dubai, Kuwait, Manama, Muscat, Sanaa, Tripoli, Antanarivo, Bujumbura, Djibouti, Khartoum, Kigali, and Port Louis have been asked to close for normal operations today through Saturday, August 10.
However, the posts in Dhaka, Algiers, Nouakchott, Kabul, Herat, Mazar el Sharif, Baghdad, Basrah and Erbil that normally remain open on Sunday were closed on Sunday, are authorised to reopen for normal operations from Monday.

The CNN said an intercepted message among senior Al Qaeda operatives in the last several days raised alarm bells, that led to the closing of embassies and consulates across the Middle East and North Africa on Sunday.
The CNN said it has agreed to a request from an Obama Administration official not to publish or broadcast additional details because of the sensitivity of the information.
"I think we're doing what's necessary to protect our people. We're also protecting our sources. And, I think that's exactly the right step," Congressman Adam B Schiff said.
"We know a lot more about the when than the where. You can tell that from the breadth of the closures across North Africa and the Arabian Peninsula. But the 'when' was very
specific in terms of a Sunday. Obviously, that may continue and the closures may continue. The travel warning is more extensive," he said.