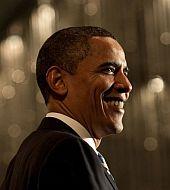 United States President Barack Obama has said that there has been no breach in the national security due to the scandal that forced CIA Director Gen David Petraeus to quit because of an extra-marital affair.

Making his first public comment on the scandal, Obama said, "I have no evidence at this point from what I've seen that classified information was disclosed that in any way would have had a negative impact on our national security."

"Obviously, there's an ongoing investigation. I don't want to comment on the specifics of the investigation," Obama said in response to a question if there was any breach of national security due to the scandal.

60-year-old Patraeus quit as CIA chief after enforcement agencies identified Jill Kelley, 37, as the woman whose report of harassing e-mails eventually exposed an extramarital affair between Petraeus and Paula Broadwell, a former Army officer who wrote a biography of the retired four-star general.

Obama said the FBI has its own protocols in terms of how they proceed.
"I am gonna let (Michael) Morell (acting CIA director) and others examine those protocols and make some statements to the public generally," he said.
Obama praised Petraeus for his extraordinary career.
"Gen Petraeus had an extraordinary career. He served this country with great distinction in Iraq, in Afghanistan and as head of the CIA.
"By his own assessment, he did not meet the standards that he felt were necessary as the director of CIA with respect to this personal matter that he is now dealing with his family and with his wife. And it's on that basis that he tendered his resignation and it's on that basis that I accepted it," he said.
"I want to emphasise that from my perspective, at least, he has provided this country an extraordinary service. We are safer because of the work that Dave Petraeus has done. And my main hope right now is that he and his family are able to move on and that this ends up being a single side-note on what has otherwise been an extraordinary career," Obama said.