Janata Dal-United president Sharad Yadav says leaders of all 11 parties who've formed a new front will meet after the current Parliament session to finalise a name, coordination strategy and programmes. Mayank Mishra reports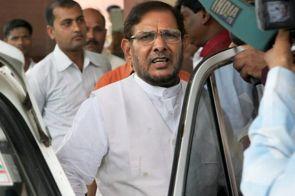 A Third Front is like a trial balloon, floated before all Lok Sabha elections. But it fails to take off. Why will it be different this time?
We are in the process of building the First Front, not the Third Front. Whether you consider our geographical spread, regions we cover or social groups we represent, we are bigger than the fronts led by the Congress and the Bharatiya Janata Party.
The joint rally of leaders of 11 parties in October last year was the first step towards formation of a new front. The decision to form a joint block in Parliament was a logical next step. We believe a vast majority in the country wants a formation that is different from what we already have. We want to work on the unfinished agenda of the past 66 years. We believe in inclusive politics, that promotes peace and development together.
The Aam Aadmi Party is also positioning itself as an alternative. Will you bring the AAP along?
We are looking for parties that respect our (India's) Constitution and have faith in the democratic process. The AAP has a one-point agenda, on corruption. We know corruption is a big issue. But it is a symptom of a far bigger problem of social and economic disparities in our country. Corruption can be removed only if we address the big problem. It cannot be tackled by a quick-fix solution like a piece of legislation. The AAP is a new party and it has yet to come out with policies and programmes on problems facing the country.

Any talk of a new Front is associated with political instability, economic chaos, weak leadership, constant infighting and too many aspirants for prime ministership. Can we escape that?
Unlike other formations, we never had any problem in selecting our prime minister.
There was no problem in 1989 and 1996. And, there will not be any problem in future, too. About political instability, you must remember the V P Singh government fell because the BJP withdrew support. The BJP wanted to pursue a divisive agenda by taking out the (Ayodhya) 'rath yatra' and wanted us to support it. There was no way we could let that happen, even at the risk of losing the government. There was no way we could allow our core values to be compromised. Similarly, in 1996-98, it is the Congress that withdrew support and occasioned political instability, not us.

The Third Front is seen as anti-reform.

There should be no confusion about the fact that our economic policy is left-of-centre. We do not believe in being dictated by the interests of a particular class. Ours is an inclusive approach and our economic policy is going to reflect that. But that does not mean we are less committed to development.
Opinion polls are talking about a Narendra Modi wave. Do you sense that it is advantage NDA?
Surveys and the media always underestimate our strength. Such polls are done at the behest of either the Congress or the BJP and we do not believe in these. I see no wave in the country. Do not jump to any conclusion on the basis of turnout in rallies. The success (and failure) of a rally now is directly proportional to the money spent. The more you spend, the bigger it will be. Those who can afford to spend more can have big rallies. Since we cannot afford it, we are not focusing on mega rallies.
Will the Front parties go for a pre-poll alliance?
There is no such compulsion. Those who can will have a pre-poll alliance as well. Like in Tamil Nadu, the All India Anna Dravida Munnetra Kazhagam and Left parties have gone for an alliance. It will also happen in other states. Since such alliances are at the stage of discussion, I would not like to comment on these. At the moment, 11 parties have come together. And, some others are likely to join. I will not take names because discussion is still on.
Surveys have predicted a rout for the JD-U in Bihar. What is your view?
As I told you, I do not believe in surveys and opinion polls. Wait for elections. All opinion poll predictions will prove to be wrong.
Do you regret walking away from the (BJP-led) NDA?
No way. Why should we? We were together as long as the NDA focused on a national agenda. The moment we realised the focus had shifted to something else, we parted ways. There is absolutely no regret.