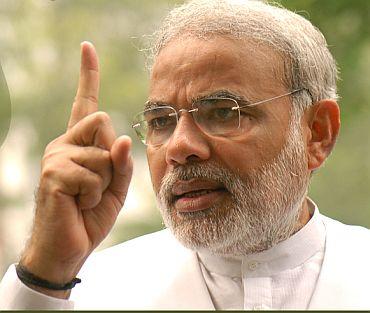 Gujarat Chief Minister Narendra Modi on Sunday termed the West Bengal assembly polls as a "freedom movement" of people entangled into 35-year-long vicious cycle of "oppression".
Complete Coverage: Assembly Election 2011
"I was surprised after what I saw in West Bengal. It was a whole new form of election there," Modi said while addressing a seminar organised by the Gujarat Chamber of Commerce and Industries in Ahmedabad.
"It was not just some election, but a movement for freedom by the people who want to be free from the shackles of 35-year-long vicious cycle of oppression," said Modi, who on Saturday participated in an election campaign in the Jalpaiguri district of West Bengal.
The Gujarat CM said that in West Bengal people purchase agricultural produce like potatoes from farmers for daily use only. "I explained to the farmers there about what happens in case of their counterparts in Gujarat, who also cultivate potatoes. A farmer in Banaskantha (Gujarat) cultivates potatoes, which are sold in markets of Canada where it gets transformed into chips and is sold across the world. This is where government figures in," Modi said. He told the GCCI that in Jalpaiguri potatoes are sold only if people come and buy them otherwise they are allowed to rot.
During his election campaign in WB, Modi accused the Left government of failure in setting up industry in the state in the last 34 year-rule. He had also expressed concerns over the plight of tea garden workers of North Bengal.
Image: Gujarat Chief Minister Narendra Modi