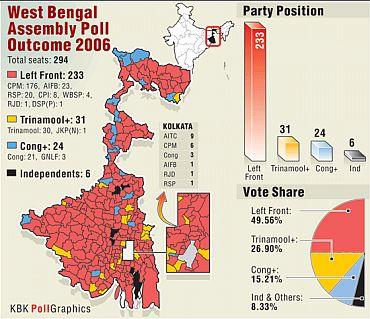 With canvassing for polls having just ended, North Bengal is all set for the for the April 18 polls in 54 constituencies spread over six districts -- Darjeeling, Jalpaiguri, Coochbehar, North Dinjapur, South Dinajpur and Malda.
Coverage: Assembly Elections 2011
All political parties sent their top guns for campaigning. Congress general secretary Rahul Gandhi campaigned in Matigara-Naxalbari, Malbazar, and Malda. Congress president Sonia Gandhi and Finance Minister Pranab Mukherjee addressed election meetings in Jalpaiguri and Malda districts on April 15, the Bengali New Year.

West Bengal Left Front chairman Biman Bose and Bharatiya Janata Party president Nitin Gadkari had addressed election rallies and held roadshows for their respective candidates in Coochbehar, Jalpaiguri and Darjeeling districts a few days back.

Trinamool Congress chief and Railway Minister Mamata Banerjee too had been campaigning in north Bengal districts since April 10.

A brief overview of North Bengal districts' constituencies

Jalpaiguri: Jalpaiguri district is the largest district in West Bengal and spawns an area of 6,245 sq km. The name is derived from the word jalpai, which means olive, as olives are quite common in this region.

Jalpaiguri district has 12 assembly constituencies. These are: Alipurduars, Dabgram-Phulbari, Dhupguri, Falakata, Jalpaiguri, Kalchini, Kumargram, Madarihat, Mainaguri, Mal, Nagrakata and Rajganj.

Of these, Kumargram, Kalchini, Madarihat, Malbazar and Nagrakata constituencies are reserved for Scheduled Castes candidates.

Coochbehar: Coochbehar district is spread across 387 sq km. It used to be a state before independence and the name is derived from the natives Koch Rajbongshi tribe.

Coochbehar district has 9 constituencies for the assembly elections -- Cooch Behar North, Cooch Behar South, Dinhata, Mathabhanga, Mekliganj, Natabari, Sitai, Sitalkuchi, Tufanganj.

Of these, Mekliganj, Mathabhanga, Cooch Behar Uttar, Sitalkuchi and Sitai constituencies are reserved for Scheduled Castes candidates.

Darjeeling: Darjeeling district is spread across 3,149 sq km and sits at an altitude of 6710 feet above sea level. 

It is one of the prime tourist spots in not just West Bengal, but entire India. With Kanchenjunga providing a majestic backdrop, Darjeeling is fondly named 'Queen of the Hills'.

Darjeeling district has 6 constituencies for the 2011 West Bengal elections -- Darjeeling, Kalimpong, Kurseong, Matigara-Naxalbari, Phansidewa, Siliguri.

Malda: Malda is an important commercial town today.

The constituencies here are Araidanga, Baisnabnagar, Chanchal, Englishbazar, Gajol, Habibpur, Harishchandrapur, Malatipur, Malda, Manikchak, Mothabari, Ratua, Suzapur.

North Dinajpur: The constituencies are Chakulia, Chopra, Goalpokhar and Hemtabad.

South Dinajpur: The constituencies are Islampur, Itahar, Karandighi, Raiganj, Balurghat, Gangarampur, Harirampur, Kumarganj, Kushmandi, Tapan.

The Left Front-BJP equation

Their ideological difference notwithstanding, the Left Front, it is heard, is somewhat dependent on the saffron party to redeem its position in the assembly elections in the North Bengal districts.

The first phase of assembly elections will be held on April 18 in six North Bengal districts, and the BJP is likely to improve its share in at least 15 to 17 of the total 54 seats.

The Left Front hopes that the BJP will divide votes, and assist the ruling coalition to win seats in the North Bengal districts. 

BJP spokesperson and MP Syed Shahnawaz Hussain is quoted to have said that his party was optimistic of securing a few seats this time in West Bengal.

According to political analysts, a crucial role is expected to be played by the Vanabashi Kalyan Ashram, an NGO affiliated to the Rashtriya Swayamsevak Sangh. The NGO has been working in the Rajbongshi and Adivashi-dominated areas of North Bengal districts. It runs a lot of free schools and medical aid centres in the area.

Though the BJP could win a single seat in the Lok Sabha election in 2009, the party's vote share ranged between 13 and 38 per cent in different constituencies in North Bengal. In Jalpaiguri's Madarihat constituency, the BJP had got 38 per cent votes.

However, the Left Front leaders don't agree that it is banking on the saffron party to salvage its electoral base in the region.

"The North Bengal districts are strong base of Left Front," said a veteran party member.

In Siliguri, Ashok Bhattacharya, state minister for municipal affairs and urban development and town planning, is pitted against Rudra Narayan Bhattacharjee, dean of North Bengal Medical College. 

However, Bhattacharya seemed confident of romping home a victory. "I am sure of a win," the minister told rediff.com, "because I have worked hard all these years."

The BJP, which virtually has no representative in the state's outgoing legislative assembly, lined up the top guns like BJP veterans LK Advani, Sushma Swaraj, Arun Jaitley, Rajnath Singh and Gujarat Chief Minister Narendra Modi to campaign in North Bengal. 

Voice of dissent in Darjeeling

The Gorkha Janmukti Morcha, the main votary for a separate state of Gorkhaland, insisted that the polls can be held in the hills along with the rest of the state.

"Gorkhaland is our top priority. We will take a call on participation when the election comes," GJM general secretary Roshan Giri had told PTI a month back.

Giri claimed that besides the hill constituencies of Darjeeling, Kurseong and Kalimpong, the GJM could be a deciding factor in at least nine other seats in the plains which have a sizeable presence of Nepali speaking population like Rajganj and Kalchini.

In contrast to the GJM stand, the ruling Communist Party of India-Marxist and Gorkha National Liberation Front of Subash Ghising said the situation was not ripe for a peaceful election.

"It is impossible to hold a peaceful election in the hills in view of terror unleashed by the GJM. It is only the GJM which can hold rallies and carry out activity there. Many of our political leaders have fled and are now living in Siliguri out of fear of GJM attacks," Darjeeling district secretary of CPI-M Jibesh Sarkar said.

On March 24, the Gorkha Jan Mukti Morcha chief, Bimal Gurung announced the party's candidates from the three Hills seats for the assembly election.

Trilok Dewan has been nominated from Darjeeling, Harkha Bahadur Chettri from Kalimpong, while Rohit Sharma will contest from Kurseong.

Before announcing the names of the candidates, Gurung said they should use this platform to strengthen the voice for Gorkhaland. Harkha Bahadur Chettri is the spokesperson of the Morcha.

A school-teacher, Chetrum entered politics in 1981 as a member of the Sinuate Vidyarthi Sangh and actively supported the GNLF agitation in 1983. Dewan from Darjeeling, is an IAS officer of the 1969 batch and was former chief secretary to the government of Andhra Pradesh.

An ex-Army man, Dewan also fought in the 1967 Bangladesh war. The GJMM candidate from Kurseong Sharma who joined the party in 2008, is a member of Study Forum and the GJMM central committee. Sharma is currently the head of Commerce department in Kurseong College.

Darjeeling: No fear psychosis this time

In the last Lok Sabha polls, there were allegations that the hills' pre-dominant pro-Gorkhaland outfit Gorkha Janamukti Morcha had created a fear psychosis, which prevented other parties from launching an all-out campaign to woo the voters.

Leaders of opposition parties, who had fled from the hills apprehending atrocities by the Bimal Gurung-led GJM, returned to Darjeeling this time and carried on election campaign 'without any hindrance', with the Darjeeling district administration keeping vigil to prevent any untoward incidents.

Even Gorkha National Liberation Front chief Subash Ghising, who fled the hills about three years back for the plains of neighbouring Jalpaiguri district following threats from the GJM, returned to his Darjeeling home recently and held a public rally in Mirik.