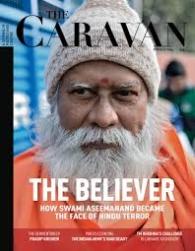 Swami Aseemanand appears to have become a habitual retractor. After his explosive interview in to Caravan magazine, the accused in the 2007 Samjhauta Express, Hyderabad Mecca Masjid and Ajmer Dargah blasts, on Friday denied speaking to the magazine.

But Caravan stuck to its stand.

Magazine Executive Editor Vinod Jose said that the story was genuine and the magazine would release the entire transcript of the tapes of the Aseemanand interview. "The magazine stands by the story and the letter is a spin by the Rashtriya Swayamsevak Sangh," he alleged.

He also denied allegations made by Aseemanand in his letter saying that the reporter had posed as a lawyer. "The interview was not a sting op and Aseemanand willingly agreed to speak to Caravan."
The magazine interview claimed that Aseemanand said that RSS chief Mohan Bhagwat had "sanctioned' the terror attacks. The report quoted Aseemanand as saying that Bhagwat, then RSS general secretary, told him that the blasts should not be linked to the Sangh.

"Aseemanand told Caravan that Bhagwat said of the violence, 'It is very important that it be done. But you should not link it to the Sangh'," said a press release issued by the magazine on Wednesday.