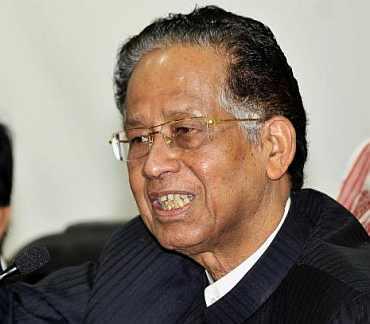 The Congress government in Assam and the opposition, the Bharatiya Janata Party, are engaged in war of words over a purported visit of Union Home Minister Rajnath Singh to the troubled Assam-Nagaland boundary areas where situation is limping back to normalcy.
Assam chief minister Tarun Gogoi on Sunday accused the BJP unit in Assam of taking recourse to falsehood by making "weird statements that the state government did not give the go-ahead to Home Minister Rajnath Singh to visit Assam citing security reasons".
"The state BJP is making blatant lies that our government did not give the go-ahead to the Union Home Minister to visit Assam on security grounds. The ministry of home affairs did not send any itinerary to the state government regarding the visit of Rajnath Singh to Assam.
"Where does then the question of not providing security and other paraphernalia to the Union Home Minister arise?" Gogoi said, according to an official release issued by the Chief Minister's Office.
Gogoi dared the BJP to disclose the official communiqué stating that the party had denied Singh a visit to the state. "Disclose it or else the party leader must apologise to the people of the state," he added.
War of words broke out when the BJP had maintained that the CM had expressed inability to provide security to Singh, who wished to visit the violence-hit state.
Gogoi added, "I have been all along saying that Rajnath Singh should come to Assam to take stock of the situation along the inter-state border or else he could depute a minister of state or senior official of his ministry."
It is the duty of the state government to make all security arrangements for any visiting central minister or dignitary and it will not shirk from its responsibility, the Chief Minister said.