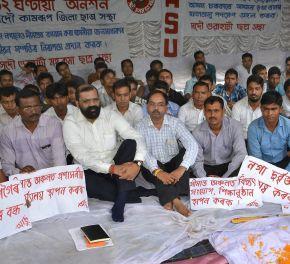 A day after it was reported that a teenager was killed at the hands of National Democratic Front of Bodoland (Songbijit faction) cadres, other organisations have slammed the state for failing to resolve the militancy along the border. Anurag Kashyap reports
The death of 16-year-old Priya Basumatary at the hands of National Democratic Front of Bodoland (Songbijit faction) cadres on August 20 in Assam has sent a shiver down the spines of many parents and also reflects the Assam government's failure to restore peace along the border of Assam-Nagaland.
Priya, a Bodo tribal girl from the remote Dwimuguri forest village in Chirang district of
insurgency-ravaged Bodoland areas of Assam, was shot dead by NDFB-S militants after they suspected her to be an informer to the security forces. What is even more horrifying than the death of an innocent minor is that hours after she was gunned down, the chief of the NDFB-S posed in front of TV cameras recounting the gory details of Priya's death. Speaking to the media B Bidai, the chief of the militant group, said that the teenager had been killed because she had tipped-off security forces about the presence of five NDFB-S cadres at Dwimuguri.
The incident has shocked all in Assam and many now consider this act as heinous as that of Taliban terrorists shooting Malala for advocating women's right to education in Pakistan.
"Priya's incident should shame the Assam government and the Centre for their failure to contain marauding insurgents," said adviser of All Assam Students' Union Dr Samujjal Bhattacharrya.
"Protests led by groups in Bodoland areas should have been more vociferous, but people are scared of invoking the wrath of the insurgents. The administration is to blame for the constant fear that people live in over here. Additionally, the government has adopted a half-hearted approach to tackle NDFB-S insurgents. The administration for reasons best known to them has not taken a tough stance against them," added Promode Boro, president of All Bodo Students' Union.
A section of Bodo leaders have taken a critical view of Chief Minister Tarun Gogoi's announcement to institute a bravery award after Priya. "The CM should clarify on what basis will a bravery award be instituted in Priya's honour. Was she being used as an informer by security forces? If they were, it was a violation of the law, added Boro.
Image: Members of the All Assam Student Union (AASU) staging a sit-in demonstration. Photograph: PTI photo