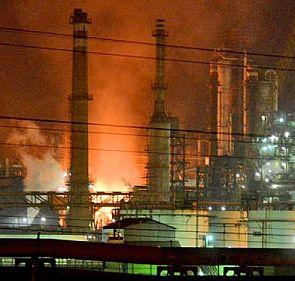 With yet another victim succumbing to burn injuries at a city hospital on Wednesday, the death toll in last month's fire at the Hindustan Petroleum Corporation Ltd's complex has risen to 27.
A contract worker Ananta Goud, 27, died while undergoing treatment at the National Burns Center in Mumbai, a statement issued by the HPCL said.
A massive blaze had broken out on August 23 at the HPCL complex when staffers from private companies were at work. Of the 27 persons killed in the mishap so far, only one was an employee of the HPCL, while the rest were private workers engaged by contract companies.
Currently, seven workers are undergoing treatment in different private hospitals and six are at the National Burns Centre, Mumbai. The condition of the six in Mumbai is reported to be stable.
The HPCL has so far handed over compensation amount of Rs 5 crore to the district collector through cheques. The compensation amount of Rs 20 lakh for Ananta Gaud will also be handed over to the collector, the company release said.