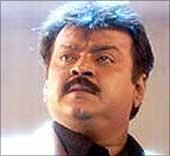 Stung by cross-voting of seven dissident Desiya Murpokku Dravida Kazhagam members of Legislative Assembly in Thursday's Rajya Sabha polls, party founder and Leader of the Opposition Leader in the assembly Vijayakanth on Friday charged them with betrayal as they were given a political identity by him.
Putting up a brave face in the wake of his party's defeat in Thursday's polls held for six vacancies, he said the DMDK had in many ways achieved success, claiming that the All India Anna Dravida Munetra Kazhagam was inclined more towards DMDK's defeat.
He recalled that the ruling party had initially announced five candidates before withdrawing one of them to accommodate the Communist party of India's D Raja. "A question has come up in the minds of people if this was done to indirectly help the Dravida Munetra Kazhagam win," he said in a statement.
The actor-politician claimed AIADMK could not stand his party's growth and said the party along with its allies could have defeated arch rival, the DMK.
The DMDK has been passing through a crisis with seven of its MLAs calling on AIADMK supremo and Chief Minister Jayalalithaa, thus turning rebels. They had voted in favour of AIADMK and supported nominees on Thursday, denying Vijayakant's party a chance to give tough competition to DMK's Kanimozhi in determining the winner for the sixth seat.
Had the DMDK's votes remained intact, its candidate A R Elangovan would have polled 29 votes with Kanimozhi managing only 32. Even that was reduced to 31 after one ballot was declared invalid.
The DMK and the DMDK entered into an elimination process to decide the winner on the basis of number of votes, with Kanimozhi securing 31 against Elangovan who managed only 22.
Vijayakant said that by supporting the ruling dispensation, his dissident colleagues "stood exposed" as they had called on Jayalalithaa on the pretext of getting development work done in their respective constituencies.
"People of those constituencies have identified them. The future will teach them (a lesson) for betraying the party and its high command which gave them political identity," he said. Vijayakanth said he would not cowed down by the challenges thrown at his party as it was capable of tiding over them with the help of genuine supporters.