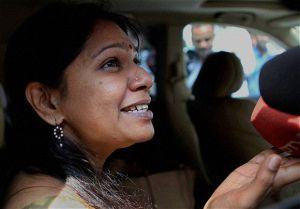 The stage is set for the battle of ballots in the biennial election to fill up six Rajya Sabha vacancies in Tamil Nadu on Thurssday, an event that will see voting after a 17-year gap.
This year the election also signals the warming up of two former political allies -- Dravida Munnetra Kazhagam and Congress -- which recently snapped ties.
Congress has pledged support of its six MLAs to DMK supremo Karunanidhi's daughter Kanimozhi.
DMK had called off its alliance with Congress in March on the Sri Lankan Tamil issue.
Congress' last minute decision to back Kanimozhi, an accused in the 2G spectrum scam, has virtually brought her near the victory post, which will also ensure her a second successive term in the Upper House.
The party's backing of Kanimozhi has dimmed the prospects of Desiya Murpokku Dravida Kazhagam nominee A R Elangovan, whose party took the plunge into the electoral battle hoping for support from other parties.
Going by the strength of political parties in the 234-member assembly, AIADMK led by Chief Minister J Jayalalithaa has ensured victory of four of her nominees and with the ruling party pledging its surplus votes, CPI leader D Raja's re-election is a certainty.
AIADMK has 151 MLAs and seven DMDK rebels, who won their voting rights through a ruling by the Madras high court, have openly declared support to the ruling dispensation, raising its strength to 158.
Each winning candidate has to muster 34 first preference votes to be declared elected. With the three-member PMK deciding to abstain from voting, the winning margin is expected to come down to 33 votes.
Even assuming AIADMK allocates 34 first preference votes to each of its four candidates, it will still be left with 15 surplus votes.
Left parties -- CPI, CPM and Forward Bloc -- combine have 19 votes and AIADMK assuring its surplus 15 votes, Raja will have no difficulty in coasting to victory.
DMK has 23 MLAs and has already garnered support of two-member PT and five-member Congress to Kanimozhi and is now assured of 32 votes and needs at least two more for victory.
DMDK with 29 members as of now is assured of support of only 22 of its MLAs, as seven rebels have made known their stand to back AIADMK, making chances of the victory of Elangovasn bleak.
The developments surrounding DMK has thrown up interesting equations of a political reorganisation as estranged ally Congress, two former allies of AIADMK -- Manithaneya Makkal Katchi and Puthiya Tamizhagam, are on board the ship captained by octogenarian politician Karunanidhi ahead of next year's Lok Sabha polls that will be an acid test for Congress-led United Progressive Alliance.
However, Congress' support, conveyed by state in-charge Mukul Wasnik on Tuesday night, is believed to have come with high command favourably poised towards veteran Karunanidhi even as DMDK kept its channels open with the national party.
Despite criticism of the UPA over issues like the Indo-US nuclear deal and other controversies, DMK had remained with the Congress.
Karunanidhi had also hoped for PMK's support, especially in the backdrop of the party founder being arrested in connection with the Marakkanam violence, even as he sent out feelers to DMDK, once expressing sympathy to his 'younger brother' Vijayakant, the party founder, in a public meeting.
Voting is being held for the first time in nearly 17 years, with seven candidates in the fray for six vacancies.
The candidates are AIADMK's K R Arjunan, V Maithreyan, T Rathnavel, R Lakshmanan, CPI's D Raja, DMK's Kanimozhi and DMDK's A R Elangovan. Thangamuthu (AIADMK) withdrew from the contest in favour of the CPI nominee.
Jayalalithaa-led AIADMK did a flip-flop by initially announcing five nominees, before withdrawing one of them for CPI's D Raja, who along with V Maithreyan (AIADMK) and Kanimozhi, are seeking a successive term to the House of elders.
Image: Congress' last minute decision to back Kanimozhi has virtually brought her near the victory post
Photograph: Reuters