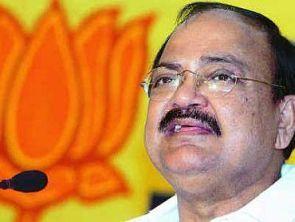 Former Bharatiya Janata Party president M Venkaiah Naidu on Monday made a presentation before the BJP parliamentary board on how the party should approach the Lok Sabha polls.
Naidu's talk, which focused on how the party could win 180 to 200 seats in the Lok Sabha polls, had the eleven member board sit in rapt attention.
The former BJP president suggested that four top leaders should concentrate on four states where the BJP can gain maximum advantage.
He said the party in Andhra Pradesh hopes to get 5 to 7 seats under the leadership of Narendra Modi. He also suggested bringing former Karnataka chief minister B S Yeddyurappa back to the BJP to retain 15 LS seats.