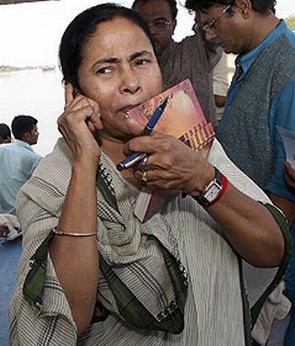 A call made by West Bengal Chief Minister and Trinamool Congress leader Mamata Banerjee to Vijayamma, wife of late Andhra Pradesh chief minister Dr Y S Rajashekhar Reddy and mother of Jagan Mohan Reddy, is adding frown lines to the faces of Congress and Telegu Desam Party leaders alike.
Speculations about the Jagan-led YSR Congress Party teaming up with the TMC can already be heard in the state's political corridors.
But Congress and TDP leaders have no cause for worry if sources within the YSR Congress are to be believed.
The party, founded by YSR's son Jagan after he was kicked out of the Congress, is more interested in joining hands with the Communist Party of India - Marxist before the Lok Sabha polls next year.
The YSR Congress is confident that it will do well in the elections. Though the CPI -M has only four seats in the assembly, the latter has a large number of cadres in the state. YSR Congress is a relatively new party and it will need the help of grass-root level workers while campaigning across the large state.
The CPI-M, which is trying to consolidate its base in Andhra, may agree to such an alliance as well.
While details of the alliance are being kept under wraps, the YSR Congress is expected to make an announcement shortly. But party insiders are reluctant to comment on the possibility of the YSR Congress joining the much-talked-about Third Front.