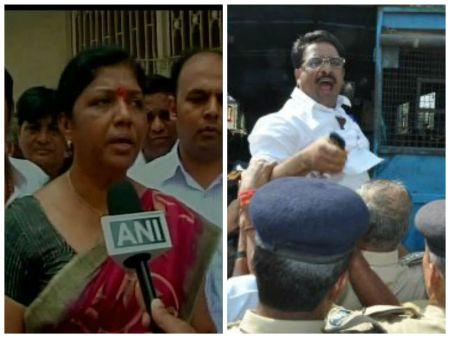 The Bharatiya Janata Party's Ranjan Ben Bhatta will be pitted against Congress's Narendra Rawat for the Vadodara Lok Sabha seat vacated by Prime Minister Narendra Modi.
The BJP on Tuesday announced the name of the Vadodara deputy mayor as its candidate. Congress, too announced that Rawat would be their candidate on Tuesday.
The by-election is scheduled for September 13 and the results will be declared on September 16. Modi, who had contested from both Varanasi and Vadodara seats in Lok Sabha polls retained the Varanasi seat.
It was widely speculated that BJP President Amit Shah would be fielded from the seat, but Shah has decided not to contest keeping in view the responsibility entrusted upon him in steering the party.
Rawat has been in the forefront in the fight against the BJP in Vadodara for some time indicating he was in the race for the seat in this by-election. He had organised some protests and demonstrations against the BJP-ruled Vadodara municipal corporation sometime back.
Rawat, the chief of the Vadodara unit of the party, was the first choice of Congress to contest Lok Sabha polls from Vadodara after clearing the much-talked about primaries exercise for candidate selection, but was withdrawn last minute, making way for AICC general secretary Madhusudan Mistry Modi to contest from there.
The name of former Congress city unit president Suresh Patel was also doing the rounds for the seat. The Gujarat Congress had sent names of three candidates, including Rawat, Patel and Satyajitsinh Gaekwad for the by-polls. But the party ultimately decided in favour of Rawat.
Image: BJP's Ranjan Ben Bhatta will be pitted against Congress's Narendra Rawat.