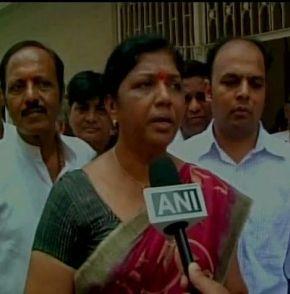 Bharatiya Janata Party on Tuesday announced the name of Vadodara deputy mayor Ranjan Ben Bhatta as its candidate for the Vadodara Lok Sabha seat vacated by Prime Minister Narendra Modi.
The party also announced the name of local municipal corporator Suresh Patel as the candidate for the Maninagar assembly constituency that Modi represented as chief minister of Gujarat.
It was widely speculated that BJP President Amit Shah would be fielded from the seat, but Shah has decided not to contest keeping in view the responsibility entrusted upon him in steering the party.
The party has also declared the name of local leader Prem Singh Shakya as the candidate for the Mainpuri Lok Sabha seat in Uttar Pradesh vacated by Samajwadi Party chief Mulayam Singh Yadav.
The names were part of BJP's list of candidates for the bypolls to 33 assembly constituencies in states of Assam, Chhattisgarh, Gujarat, Rajasthan, Sikkim, Tripura, West Bengal and Uttar Pradesh.
By-elections to these constituencies would be held on September 13 and results will be declared on September 16. The last date for filing nominations is August 27.
While there are vacancies to 11 assembly constituencies in Uttar Pradesh, there are nine in Gujarat, four in Rajasthan, three in Assam, two in West Bengal and one each in Chhattisgarh, Sikkim, Tripura and Andhra Pradesh.
Bypolls to Medak in Andhra Pradesh, Vadodara in Gujarat and Mainpuri in Uttar Pradesh Lok Sabha constituencies will also be held at the same time.
The party has also fielded senior BJP leader Lalji Tandon's son Gopal Tandon from Lucknow east assembly constituency in Uttar Pradesh for the ensuing bypolls.
The BJP central election committee finalised the party candidates for 10 assembly seats in Uttar Pradesh and nine in Gujarat, besides three each in Assam and Rajasthan and two in West Bengal, besides one each in Chhattisgarh, Sikkim and Tripura.
Image: Vadodara's deputy mayor Ranjan Ben Bhatta is the BJP candidate for the Vadodara Lok Sabha seat. Photograph: ANI/Twitter