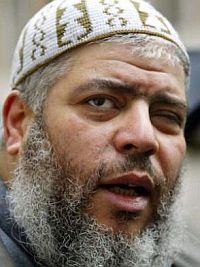 British radical cleric Abu Hamza al-Masri has pleaded not guilty in a court in New York to 11 terror charges, including plotting to set up a terrorist training camp on US soil and providing material support to Al Qaeda.

Egyptian-born 54-year-old one-eyed and hooked-hand cleric appeared in Manhattan federal court amid tight security for his arraignment before US District Judge Katherine Forrest, his second court appearance after being extradited from UK over the weekend.

Forrest set an August 26, 2013, court date for al-Masri's trial and remanded him to custody in the maximum security detention center next to the courthouse.

Wearing blue prison clothes, al-Masri briefly replied "Yes, your honour" when asked by Forrest if he was pleading not guilty to the 11 terror charges against him, including hostage-taking in Yemen in 1998 that resulted in four deaths, a conspiracy to establish a terrorist training camp in Oregon in 1999 and supporting violent jihad in Afghanistan.

He faces a maximum term of life imprisonment.

Al-Masri was not wearing his trademark prosthetic hook on his arm. It was removed by US authorities after he was extradited from Britain. He had appeared without the hook when he made his first court appearance on Saturday.

Al-Masri's court-appointed lawyer Jeremy Schneider said outside the courthouse his client is having a hard time without his prosthetics, which he requires to function properly.

"I believe he has use of them for a certain part of the day but not long enough to allow him to function the way he should function," he said.

"As you can well imagine, he's not happy he's in a situation like this without use of his prosthetics. He's having a hard time. He doesn't have hands," he said.

Al-Masri is one of the five terror suspects to be flown in from Britain after years of fighting extradition to the US.

Egyptian citizen Adel Abdel Bary, 52, Khaled al Fawwaz, 50, of Saudi Arabia, British citizens Babar Ahmad, 38, and Syed Talha Ahsan, 33, will also face terrorism charges in the US.

Bary and Fawwaz pleaded not guilty to the terror charges at a hearing Saturday and a tentative trial date of October 7, 2013 has been set for them.

Ahmad and Ahsan have also pleaded not guilty to terrorism-related offenses stemming from their involvement in and operation of 'Azzam Publications', an entity in London that allegedly provided material support to the Chechen Muhjahideen, the Taliban, and associated terrorist groups.

They will face charges in Connecticut.

The most prominent among the five terror suspects is al-Masri, who would be prosecuted under his birth name of Mustafa Kamel Mustafa. He had served as an imam at a London mosque. He faces 11 charges, including that in late 1999, he and several other co-conspirators attempted to create a terrorist camp to support Al Qaeda on property located in Bly, Oregon.

The primary purpose of the Oregon camp was to provide various types of terrorist training, including weapons training. In late November 1999, at al-Masri's direction, other co-conspirators traveled from England to Bly to assist in setting up the camp.

He is also charged with the December 1998 hostage-taking in Yemen when the hostage takers stormed a caravan of sport utility vehicles carrying 16 tourists, including two United States citizens, and took the tourists hostage by force.

The Yemeni military launched a rescue operation during which the hostage-takers fought back using the hostages as human shields.

During the rescue operation, four of the hostages were killed and several others were wounded.

Separately, in November 2000 al-Masri requested a co-conspirator to escort another co-conspirator in London to a terrorist training camp in Afghanistan via safehouses and other lodging in Pakistan.

Between 2000 and 2001 he also provided goods and services to the Taliban by urging his followers to donate money, goods, and services to Taliban- sponsored programs in Afghanistan.