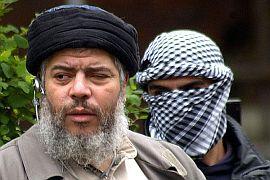 In what is described as a "watershed moment", radical Islamic cleric Abu Hamza al-Masri along with four other terror suspects were on Saturday flown in to United States from the UK to face trial on charges relating to hostage taking and conspiracy to set up an Al Qaeda-style militant training camp.

Besides the hooked-hand Hamza, the others who were extradited are Adel Abdul Bary, Khalid al-Fawwaz, Babar Ahmad, and Syed Talha Ahsan; the last two of whom pleaded not guilty in a US court where they were produced soon after their arrival in the US.

The other three -- Hamza, Bary and al-Fawwaz -- were scheduled to be produced before a New York court later in the day.

US Attorney for the Southern District of New York, Preet Bharara, termed their extradition, after years of fighting a legal battle, "as a watershed moment" in US' efforts to eradicate terrorism.

"As is charged, these are men who were at the nerve centres of Al Qaeda's acts of terror, and they caused blood to be shed, lives to be lost, and families to be shattered.

"After years of protracted legal battles, the extradition of these alleged terrorists to the US is a watershed moment in our nation's efforts to eradicate terrorism, and it makes good on a promise to the American people to use every available diplomatic, legal, and administrative  tool to pursue and prosecute charged terrorists no matter how long it takes," Bharara said.

The India-born top Manhattan prosecutor said Hamza, Bary, and Fawwaz will finally face justice.

FBI Acting Assistant Director in Charge Mary Galligan said, "The extraditions of Abu Hamza, Bary, and Fawwaz are a major milestone in our effort to see these alleged high-level terrorists face American justice".

"The indictments allege the direct participation of these defendants in planning and carrying out some of the most odious acts of Al Qaeda terrorism.

"When an indictment alleges the murderous intent of international terrorists, the government will not waver in its determination to achieve justice, no matter how long it takes," the FBI official said.

Hamza 54, a naturalised British citizen, will be presented today before US Magistrate Judge Frank Maas and is scheduled to be arraigned on October 9 before US District Judge Katherine B Forrest, at which time an initial pre-trial conference will also be held.

Fawwaz and Bary will be presented and arraigned on Saturday before US Magistrate Judge Frank Maas and an initial pre-trial conference before Judge Kaplan is scheduled for October 9.

Ahmad, 38, and Ahsan, 33, both British citizens, have been charged with terrorism-related offences stemming from their involvement in, and operation of, 'Azzam Publications', an entity in London that allegedly provided material support to the Chechen Muhjahideen, the Taliban, and associated terrorist groups.

The indictment alleges that Mustafa Kamel Mustafa, aka Abu Hamza was involved in a hostage-taking conspiracy in Yemen in December 1998 when the hostage-takers stormed a caravan of sport utility vehicles carrying 16 tourists, including two United States citizens, and took the tourists hostage by force.

Prior to the hostage-taking, Hamza provided a co-conspirator in the hostage-taking with a satellite telephone and subsequently spoke with him on that satellite telephone, agreed to act as an intermediary on behalf of the hostage-takers, and advised the co-conspirator with respect to the hostage-taking.

On December 29, 1998, the Yemeni military launched a rescue operation during which the hostage-takers fought the Yemeni military, using the hostages as human shields.

During the rescue operation, four of the hostages were killed and several others were wounded.

In late 1999, Hamza and several co-conspirators, including Oussama Abdullah Kassir, Haroon Rashid Aswat, and others, attempted to create a terrorist training camp to support Al Qaeda on property located in Oregon.

The primary purpose of the camp was to provide various types of terrorist training, including weapons training.

In late November 1999, at Hamza's direction, Kassir, and Aswat traveled from London, England, to Oregon to assist in setting up the camp.

Further, the indictment alleges that in November 2000, Hamza requested that a co-conspirator escort another co-conspirator in London to a terrorist training camp in Afghanistan.

Hamza introduced the co-conspirators to one another in order to facilitate safe passage and transportation to Afghanistan, including via safehouses and other lodging in Pakistan.

In March or April 2001, Abu Hamza conveyed instructions for the co-conspirators to contact a commander of the terrorist training camp in Afghanistan.

Additionally, from the spring of 2000 through late 2001, Hamza provided goods and services to the Taliban by, among other things, urging his followers to donate money, goods, and services to Taliban-sponsored programmes in Afghanistan.

Separately, Bary, 52, a citizen of Egypt, and al-Fawwaz, 50, a citizen of Saudi Arabia, are charged with conspiring with members of Al Qaeda to kill US nationals and to attack US interests abroad.

Bary is also charged with murder, conspiracy to use weapons of mass destruction and other offences in connection with the 1998 bombings of the US Embassies in Kenya and Tanzania, which caused the deaths of 224 individuals and injured thousands more.