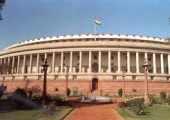 Parliament failed to transact any business on Tuesday as the issue of land deals allegedly involving Congress President Sonia Gandhi's son-in-law Robert Vadra and the plight of Sri Lankan Tamils eclipsed the proceedings in both Houses.
Lok Sabha and the Rajya Sabha witnessed two adjournments till 14:00 hours and finally for the day as the Bharatiya Janata Party members stormed the Well seeking a probe into the land deal issue.
The plight of ethnic Tamils in Sri Lanka and the Italian marines, held for killing of Indian fishermen, not returning, and other issues were also raised but the issue that rocked the two Houses was one relating to Vadra.
Gandhi was present in the Lok Sabha when the BJP members trooped into the Well carrying a placard which said 'Finance Minister, adopt the formula of son-in-law; earn sitting at home and reduce losses'.
The BJP had earlier given notices in both Houses for suspension of Question Hour to discuss the alleged anomalies in land deal by Vadra in Rajasthan.
The notices came in the backdrop of reports alleging that Vadra had broken the law in buying land in Rajasthan, much above the prescribed ceiling, and that he was set to reap a windfall from the land in arid Bikaner area.
All India Anna Dravida Munnetra Kazhagam and Congress ally Dravida Munnetra Kazhagam triggered uproar over the plight of ethnic Tamils in Sri Lanka, carrying placards and pictures of slain Liberation Tigers of Tamil Eelam chief Velupillai Prabhakaran's 12-year-old son.
The Communist Party of India-Marxist members raised the issue of Italy refusing to return the two marines accused of killing fishermen of Kerala in the high seas.
Both Houses were adjourned till noon shortly after assembling for the day and later adjourned again till 1400 hours amid uproar.
Soon after papers were laid in the Lok Sabha during Zero Hour, Railway Minister Pawan Kumar Bansal was asked by Speaker Meira Kumar to reply to the two-day debate on the rail budget. But as the din continued unabated, Kumar adjourned the House.
When the Lok Sabha met at 1400 hours, Bansal rose to reply to the discussion on Railway Budget. But BJP members rushed into the Well shouting slogans. The Speaker tried to convince the agitated members to allow Bansal make his reply.
As they did not relent, Kumar adjourned the House till Wednesday. The Rajya Sabha also witnesses similar scenes at 1400 hours when it reassembled after the second adjournment.
Opposition members trooped into the Well shouting slogans and holding placards. The Upper House was to take up discussion on the Rail Budget. Despite appeals from the chair, members did not relent and the House was finally adjourned for the day.