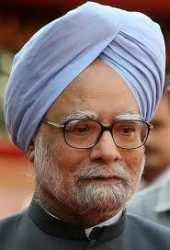 Expressing concern over the plight of Tamils in Sri Lanka, Prime Minister Manmohan Singh on Friday made it clear that political reconciliation is a must for calm in that country and said India will strive to ensure dignity and self respect for the ethnic minority.
"It will be our effort to work with the government of Sri Lanka to ensure that Tamil population in Sri Lanka are given a chance to lead a life of dignity and self respect as equal citizens of that country," Dr Singh said in the Rajya Sabha while replying to the debate on the Motion of Thanks to the President's address.
The PM said the Sri Lankan government must talk to the Tamil leadership and political reconciliation was a must to bring lasting peace there to resolve the Tamils' issue.
"There are problems in Sri Lanka. We have been worried about the fate of Tamil people in Sri Lanka. It has been our effort to deal with the Government of Sri Lanka that there must be political reconciliation, that without national reconciliation, the situation cannot remain calm. The Sri Lanka government must, therefore, take the initiative to talk to the Tamil leadership in Sri Lanka," Dr Singh said.
During the debate on the issue on Thursday, members from Dravida Munnetra Kazhagam, All India Anna Dravida Munnetra Kazhagam and Communist Party Marxist-India attacked the government saying it was not dealing with the problem seriously.
Tiruchi Siva (DMK), V Maitreyan (AIADMK) and D Raja (CPI) were on their feet soon after the PM's reply ended and sought concrete steps by the government to resolve the Tamil problem in Sri Lanka. Chairman Hamid Ansari, however, did not allow them to speak after the Prime Minister had replied.