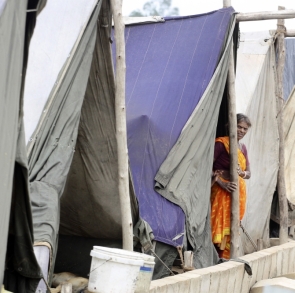 Over 12,000 riot victims in Muzaffarnagar district of Uttar Pradesh are yet to return to their native villages, authorities said on Monday.
12,681 riot victims have not returned to their native villages, Additional District Magistrate Indermani Tripathi said.
The district authorities have launched a drive to facilitate the displaced victims to get them enrolled in voter list and also help them secure admission for their children in schools and colleges, he said.
The displaced victims are now living in villages Jogiya Khera, Sanjak, Tawli, Baghra, Vigyana, Habibpur, Sikri, Riyawli, Nagla, Husainpur, Loee Mandwada, Shapur, Budhana, Kalyanpur, Shikarpur, Jolla, Basikala, Khampur of the district.
Forms of the 2,371 families have been submitted to help them in getting new ration cards and voter cards.
Meanwhile, the Uttar Pradesh government has decided to establish a government Industrial Training Institute in Loee village where hundreds of riot victims are living, Sub Divisional Magistrate Manish Kumar Sharma said.
The government has provided land for the Institute and construction will commence soon, he said.