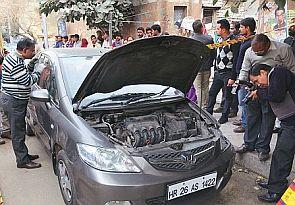 Another accused in the sensational Rs 8 crore heist at Lajpat Nagar was arrested in New Delhi on Monday with police saying that he was one of the key henchmen involved in the plot.
Ajay, said to be in his early 20s, was arrested here this morning. He is a relative of the juvenile who allegedly planned the strike, police said.
While the juvenile has already been detained in the case, three other accused were arrested from Chandigarh.
The juvenile, who worked for businessman Rajesh Kalra, had told Ajay that his boss dealt with large amounts of cash which they could easily rob, police said.
Ajay had then roped in Shakti Naidu, a seasoned criminal, to execute the heist. Shakti and some other persons suspected to be behind the heist are still at large.
"There were seven people who executed the robbery. A hunt is on to nab the three other accused in the case," said a senior police officer.
After executing the robbery, the gang decided to split and move to different locations. They even switched off their cellphones and did not try to contact each other, which, police says, has made them more difficult to trace.
Police have recovered part of the loot, said to be in crores (the exact amount is yet to be ascertained), from several places following information from the arrested persons.
According to a senior police official, the actual amount looted in the case was Rs 4.69 crore. The size of the loot was initially pegged at Rs 6 crore, although that figure subsequently jumped to Rs 7.69 crore.
There was speculation that the loot could well amount to Rs 15-20 crore after it was reported that there was foreign currency in the car.
Police said that the complainant, Rakesh Kumar Sharma, who is also Kalra's business partner, had initially told them that Rs 7.69 crore was robbed from the Honda City car in the Lajpat Nagar area.
According to sources, police today questioned Sharma for accurate information regarding the actual amount robbed in the heist.