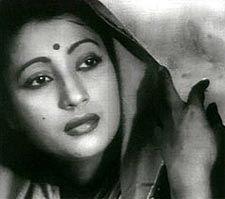 Legendary actress Suchitra Sen is in a serious condition after she was admitted to a private hospital in Kolkata following a respiratory tract infection, doctors said on Sunday.
The 82-year-old actress, who lives a secluded life and stays locked up inside her apartment, was admitted to Belle Vue Clinic earlier this week after she complained of breathlessness.
The clinic has formed a five-member-committee to monitor the health of its star patient 24x7 led by cardiologist Dr Subrata Moitra. Sources in the Belle Vue Clinic said Sen is now on oxygen and has complained of chest pain following which her chest's CT scan was also done. She is being administered antibiotics and oxygen, they said.
Rediff.com's Kolkata correspondent reported that Sen's sugar level is fluctuating, according to sources in the medical board looking after the diagnosis.
She is suffering from age-related complications, and it will be a while before she is discharged from the hospital, sources told Rediff.com.
Beginning her career with the Bengali film 'Shesh Kothai' in 1952, Sen went on to receive a National Award for her performance in the 1955 Hindi film 'Devdas' and is the first Indian actress to be awarded at an international film festival -- best actress award for 'Saat Paake Bandha' in 1963 Moscow film festival.
But after her 1978 movie "Pronoy Pasha" with Soumitra Chatterjee flopped, she disappeared from the public eye and even allegedly refused the Dadasaheb Phalke Award in 2005 preferring not to make a public appearance.
With inputs from PTI