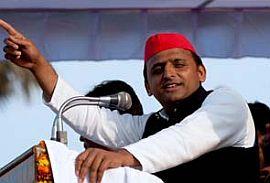 After clamping down on its yatra on the Ayodhya issue, the Uttar Pradesh government on Monday banned Vishwa Hindu Parishad's proposed 'Sankalp Diwas' stir on October 18 to press for a parliamentary legislation on building a Ram temple, fearing a communal flare-up.
The decision was taken in view of security concerns, especially after the recent communal violence in Muzaffarnagar and surrounding areas, officials said.
Inspector General (Law and Order) R K Vishkarma said elaborate security arrangements are being made to effectively implement the ban. "As many as five assistant superintendents of police, 10 deputy SPs, 50 inspectors, 50 senior inspectors, 10 lady SIs, 300 constables, besides five companies of PAC and anti-sabotage teams are being deployed to ensure that the orders are implemented," he said.
Less than two months ago, UP authorities had cracked down on VHP, arresting its top leaders Pravin Togadia and Ashok Singhal along with around 1,700 people to foil the defiant saffron outfit's controversial '84-Kosi Yatra' covering six districts, including Faizabad.
Officials said the decision to ban 'Sankalp Diwas' was taken especially in view of the recommendations of Faizabad district administration.
Terming the decision as unfortunate, the VHP alleged that the Samajwadi Party-led government had taken the decision to appease a particular community, and vowed to continue with the programme as scheduled. However, the police asserted that arrangements made to thwart the '84-Kosi Parikrama' are being made again. Besides, more force will be deployed in the district to ensure peace and order, the IG said.
VHP has given a call to observe 'Sankalp Diwas' in Ram Sewak Puram in Ayodhya to take a resolve for launching an agitation for rebuilding the Ram temple in Ayodhya. The state government has taken the decision to ban the VHP programme, especially in the light of recent communal riots in western districts of the state and ensure that no further tension is allowed, senior official said.
It cannot put a ban on the feelings of people which are in favour of the Ram temple," VHP spokesperson Sharad Sharma said. Sharma claimed that the 'Sankalp Diwas' is proposed to be observed all over the country.
The controversy revolving around the programme had already caused a major controversy, and senior Indian Administrative Service officer Sarvesh Chandra Mishra was suspended for writing a controversial letter on the issue.