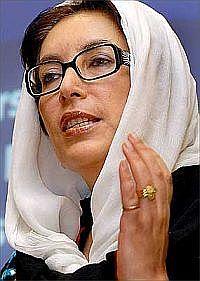 Rejecting Pakistan's appeal to reopen the probe by United Nations into the assassination of former premier Benazir Bhutto, Secretary General Ban Ki-moon has said, "The work of the commission is complete."
Last week, Islamabad had raised objections to the report that was presented by a UN appointed three-panel fact finding commission in April.
"The work of the commission is complete," Farhan Haq, spokesperson for the UN chief said.
"The Secretary-General stands by the report and has full confidence in the committee's judgment," the spokesman said.
"He believes that the report produced by the commission speaks for itself and can be helpful to any subsequent investigation." In a letter addressed to Ban, Pakistani Foreign Minister Shah Mahmood Qureshi took objections over several aspects of the report of the UN commission, including the panel's observations implying a nexus between the Pakistan army and the Taliban.
"Comments and observations about the Pakistani army, Inter-Services Intelligence or the so-called establishment, are only the opinions of the members of the commission," the letter said.
"They do not represent authenticated determinations based on any fact or evidence, and the same shall neither form a precedent nor a basis to lend credence to a political position in this regard, in the practice of states and/or that of international organisations," it added.
54-year-old Bhutto was killed on December 27, 2007 when a suicide bomber exploded himself close to her car in Rawalpindi while she was campaigning for the Pakistan People's Party in parliamentary and provincial elections.
The inquiry of commission which was set up in 2009 to ascertain the facts and circumstances of Bhutto's death, concluded that the assassination could have been prevented.
The three-member United Nations commission, which was headed by Chile's former UN ambassador Heraldo Munoz, presented its report on April 15.
The report also slammed the (Pervez) Musharraf government for both failing to protect Bhutto after she returned to Pakistan and not properly probing the circumstances leading to her murder.
The report also found that some elements of Pakistan's spy agency ISI deliberately prevented investigations.
Image: Former Pakistan  Prime Minister Benazir Bhutto