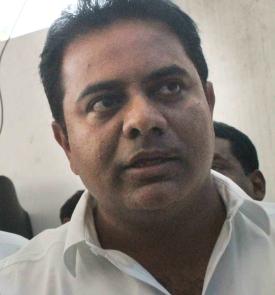 Hitting out at Andhra Pradesh Chief Minister N Kiran Kumar Reddy for rejecting the AP Reorganisation Bill, the Telangana Rashtra Samithi on Thursday said the move cannot stop formation of Telangana.
"The chief minister and the speaker colluded and they are claiming that they have passed a resolution. This is a useless attempt. Nothing is going to happen by this. Telangana would not be stopped with this. Telangana Bill would be moved in Parliament in the second week of February", TRS Member of Legislative Assembly and party president K Chandrasekhar Rao's son K T Rama Rao told media persons.
The assembly on Thursday passed by voice vote a resolution moved by the chief minister rejecting the draft Bill.
"Our party president K Chandrasekhar Rao is going to Delhi on Friday. We will meet all national leaders. This is the end of a ritual. They have done this for their self-satisfaction," Rama Rao said.
Meanwhile, Telegu Desam Party MLA P Keshav, a strong votary of united Andhra, said the resolution would help in keeping the state undivided.
Earlier, the Speaker N Manohar put the CM's resolution for a voice vote and announced that the motion has been carried.
The speaker said he did not see any reason for taking up the 10 non-official resolutions on the same subject. He then thanked the members for their cooperation and adjourned the House sine die.
Image: TRS Member of Legislative Assembly and party president K Chandrasekhar Rao's son K T Rama Rao
Photograph courtesy: SnapsIndia