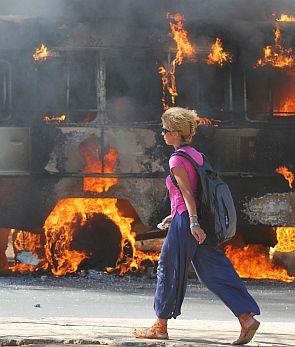 Throwing a direct challenge at the Congress high command, Andhra Pradesh Chief Minister N Kiran Kumar Reddy on Saturday said that he would ensure the defeat of the AP Reorganisation Bill 2013 when it comes up for passage in the state assembly.
"We will certainly defeat the draft Bill when it is referred to the assembly. We will see how Parliament passes it," the chief minister, who has been vehemently opposing the state's bifurcation, told a public meeting at Vijayawada.
"If you are seeking to divide the state as per the demand of KCR (Telangana Rashtra Samiti president) or eyeing the support of Jagan (Mohan, YSR Congress chief), make them join the party..... make them chief minister," Reddy said in his hard-hitting speech.
Referring to the ongoing agitation in support of a united Andhra Pradesh, the chief minister said, "Our Delhi elders have shut their eyes, ears and mouths."
The Congress was axing the branch it was sitting on, he said, reminding the party about how the state had long been its strong support base.
"Is providing solid support to the party the folly of the people of Andhra Pradesh," he asked.
"What sin have the people of Andhra Pradesh committed by giving whole-hearted support to the Congress and bringing it back to power at the Centre in 2004," he wondered.
Recalling how in 1972 the then Prime Minister Indira Gandhi had opposed the bifurcation of Andhra Pradesh, Reddy asked, "How can the present Congress high command deviate from Indira Gandhi's policies?"
He went on to allege that the party leadership had "hatched a conspiracy" with TRS chief K Chandrasekhar Rao and YSR Congress chief Jagan Mohan Reddy to split the state for political gains.
"The high command followed the advise of K Chandrasekhar Rao and Jagan Mohan Reddy, but not the Congress leaders from Seemandhra," he said.
The chief minister also said that bifurcation would ultimately be a loss for Telangana in terms of the availability of water and power.
Image: A protest against the creation of Telangana ' Photograph: SnapsIndia