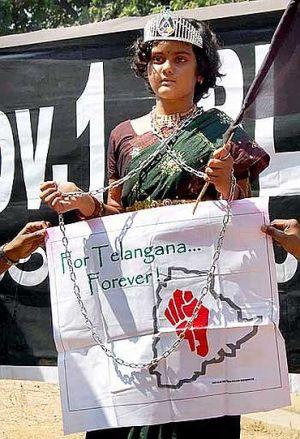 The Congress in Telangana region of Andhra Pradesh seems to be heading for a major setback, as at least three of the party members of Parliament have dropped clear indications that they were planning to quit the party and joint the Telangana Rashtra Samiti. Mohammed Siddique reports.
A day after TRS president K Chandrashekhar Rao went out of his way to visit the residence of senior Congress leader K Keshav Rao and invited him to join his party, another senior Telangana Congress MP S Rajaiah has said that Telangana and not the party was important for him and he will take his decision keeping in view the aspiration of the people of his region.
S Rajaiah, who represents Warangal in the Lok Sabha, is among the three Congress MPs whose name prominently figures among those likely to join the TRS very soon and contest the next elections on TRS ticket.
"I am ready to make any sacrifice for the sake of Telangana. The issue has now reached a now or never stage. We can not afford to be silent because if the decision was not taken now, we will never be able to achieve the goal," he told mediapersons on Monday.
"I am fed up of raising the issue of Telangana with the Congress and the time has come for all the MPs to jointly raise the issue in Parliament," he said.
Another MP, G Vivekanand from Peddapalle held a meeting with his followers and supporters in Karimnagar district on his future course of action.
Sources said that Vivekanand had made up his mind to quit the Congress and join the TRS. Vivekanand is the son of veteran Congress leader and former Congress Working Committee member G Venkataswamy. Ponam Prabhakar, another Congress MP from Karimnagar has been in the forefront of Telangana movement and is also among those likely to quit the party.
In an all out bid to further strengthen his party and weaken others in Telangana region, KCR has extended invitation to the MPs and MLAs of other parties to join hands with him.
"Acquiring political power is the only way to achieve Telangana state", KCR said adding that he aims to win at least 15 of the 17 Lok Sabha seats. "WE can not achieve Telangana state if we don't have a strong voice in the Parliament", he said.
Keshav Rao confirming that he had received invitation from KCR to join his party, said that he will take a decision at the right time. "There is nothing wrong in KCR saying that we can achieve Telangana by strengthening Telangana movement," he said.
Sources said that KCR has offered his party ticket to Keshav Rao either from Secunderabad or the Malkajgiri Lok Sabha constituency.
Rao, a former member of Rajya Sabha as well as Congress Working Committee, was sidelined in the party ever since he started forcefully raising the issue of Telangana.
Apart from Congress, KCR was also targeting the leaders of other parties, especially the Telugu Desam Party. His efforts have started yielding results as Kamlakar, the TDP MLA from Karimnagar has announced his decision to join the TRS along with his supporters.
Emergence of a stronger TRS could be bad news for Congress on many accounts. It can not only reduce the number of Congress MPs in Andhra Pradesh drastically, and can also pose serious challenges in the post-election scenario, as KCR has said that National Democratic Alliance will be more preferable for him than the United Progressive Alliance in 2014.