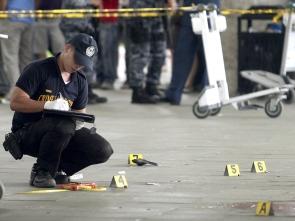 A mayor from southern Philippines, his wife and two others have been fatally shot in a daring attack at a Manila airport terminal that also wounded four other people
According to eyewitnesses, two gunmen on a motorcycle started shooting as Labangan Mayor Ukol Talumpa and his wife as they stepped out of the airport's passenger terminal after getting off a flight. Four people were killed and four others were injured. The police are upholding the identities of other victims.
The motive or the identity of the attackers is still unknown. The police has appealed to other passengers to help them identify the suspects.
According to local media, Talumpa had survived two attacks before – am ambush in 2010 and a grenade attack last year.
Image: An investigator works at the crime scene after a local town mayor was ambushed in a shooting attack at Manila's NinoyAquinoInternationalAirport.
Photograph: Che Cillo/Reuters