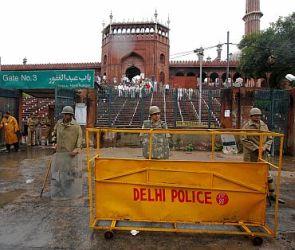 It has been a gruelling time for nearly 2,000 Delhi Police personnel, including 16 DCPs, protecting Delhi Chief Minister Arvind Kejriwal who is sitting on a dharna against city police's alleged high-handedness.
The task for these personnel began from 6 am in ensuring that the place is secured for Kejriwal who had decided to stage a protest despite prohibitory orders in place.
"Ensuring smooth flow of transport as it was the first day of the week for officegoers and safe passage of Republic Day rehearsal parade were also on agenda," a senior police official said.
As many as 16 deputy commissioners of police, 34 assistant commissioners and over 50 inspectors were among the 2,000 strong police contingent guarding the chief minister.
As some more protesters wanted to join Kejriwal post lunch, the area was completely sealed to prevent situation slipping out of hands.
Some organisations wanted to stage a counter agitation for remarks made by senior AAP leader Prashant Bhushan on Kashmir but that could have only escalated tension.
This added to the burden of the policemen, who have been hungry since morning, the official said.
These men would be replaced for the night only to return for duty at 6 am.
AAP is staging a demonstration for suspension of some police officials who had not followed the 'orders' of the Delhi Law Minister Somnath Bharti to arrest some Ugandan and Nigerian nationals.
Delhi Police, however, said the orders were not within the legal framework.