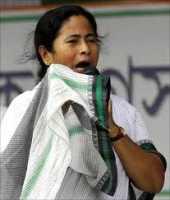 Following the withdrawal of the Dravida Munnetra Kazhagam from the United Progressive Alliance, Congress party trouble-shooters have contacted estranged ally and West Bengal Chief Minister Mamata Banerjee.

According to reliable sources in the government, Banerjee seems to have stepped down from her earlier antagonistic attitude towards the UPA and agreed in principle to give issue-based support to the government especially on the Sri Lankan issue.

Sources told rediff.com that Union Parliamentary Affairs Minister Kamal Nath has been given the task of wooing the Trinamool Congress chief and try to smoothen differences.Banerjee u-turn may have been prompted by a tepid response to her public meeting in Jungle Mahal in West Midnapore district where only a few hundreds of people tuned up
"Our party is deeply concerned about sentiments expressed by the Tamil people. We share their sentiments and are completely with them," the Trinamool said in a tweet on its official account.
At the same time, it added, "On matters of external policy, we have, from the beginning, always left it to central government in moments of crisis. We will do the same on this occasion."

The statement implied that the party will stand by whatever position the government takes with regard to the resolution on Sri Lanka at the United Nations Human Rights Council.

With inputs from PTI