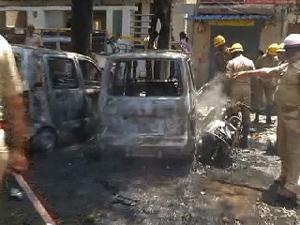 At least 33 persons were injured, three of them critically in an LPG cylinder blast during a marriage celebration in the hilly Kishtwar district of Jammu region on Wednesday.
The cylinder exploded in the Galighar village where a large number of guests had gathered for the marriage ceremony.
The district magistrate of Kishtwar, Baseer Khan said that the injured were rushed to the district hospital for treatment. Three critically injured persons, he said, were airlifted to Jammu for specialised treatment.
Khan said each injured person was given an ex-gratia relief of Rs 2000 on the spot for treatment.

Image: For representation purpose only