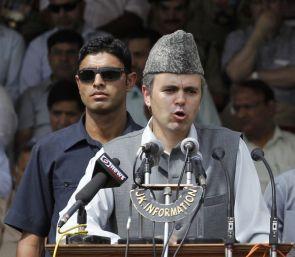 Jammu and Kashmir Chief Minister Omar Abdullah Tuesday asserted that his party would continue its alliance with the Congress party.
"National Conference will continue to remain an ally of United Progressive Alliance and never join National Democratic Alliance," Omar said while addressing a rally of party workers in winter capital Jammu.
"We are not the people who change horses' midstream," he said, adding that "it is better to remain out of power than compromising with the ideals nurtured by party leadership."
"I know NC-Congress alliance is much to the discomfiture of certain political entities who want to create confusion," he added.
"There is no question of making any compromise on the principles and have any relationship with BJP-NDA," the chief minister who is also the working president of the party said.
Omar Abdullah expressed surprise over the misrepresentation of his press interaction on the opening of civil secretariat in Jammu and said that he had made it very clear in his reply to a question that there was no Modi wave in the country. "I had only said that Modi may have an effect over his party's rank and file but there is no Modi wave in the country," he said, adding that this statement was unfortunately presented with a different slant.
The chief minister said the National Conference alliance with NDA in 1999 was mere an arrangement with a liberal leader like Atal Bihari Vajpayee.
Omar Abdullah said his government has completed almost five years and the next over year is a big challenge to carry forward the mission of transforming the socio-economic scenario in all the three regions with added enthusiasm. He sought the cooperation of people in this gigantic effort.
The chief minister also cautioned the people against the machinations of peace inimical elements and referred to the unfortunate situation erupting in Kishtwar.
"There are people who want to disturb peace and harmony by creating wedge between different segments of the society and we have to maintain vigil against them," he said.
He vowed that his government will alienate such forces and not allow them to vitiate the peaceful atmosphere.