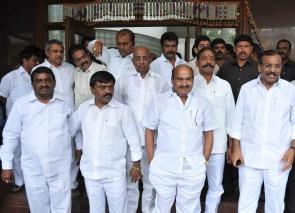 Stepping up pressure on the Congress leadership to rescind its decision on Telangana, three ministers, 10 members of Legislative Assembly and four members of Legislative Council from coastal Andhra and Rayalaseema resigned on Thursday as widespread protests raged in non-Telangana regions for the second day.
At the end of a four-and-a-half hours meeting at Chief Minister Kiran Kumar Reddy's camp office, ministers Ganta Srinivas Rao, Erasu Pratap Reddy and T G Venkatesh said on MOnday that they have submitted their resignations from the Cabinet to the CM.
Sources said at least 15 others are understood to have backed out following a stern warning by the high command. Amid the resignation drama, Congress Union ministers and some MPs from Andhra Pradesh met in Delhi on Monday night amid indications that some MPs could also quit.
Sources said while the four Union ministers from Andhra present at the meeting have ruled out their resignations, some of the seven MPs present contemplated doing so to force the party high-command to reverse the decision on Telangana.
Compounding the woes for the ruling Congress, 10 MLAs submitted their resignations to the Legislature Secretary while four MLCs also followed suit.
Protests against Andhra Pradesh's bifurcation continued unabated for the second consecutive day today with people taking out rallies and preventing public transport buses from plying. Protests were reported from various places in Krishna, East Godavari, Visakhapatnam, Kadapa and Anantapur districts.
While the hunger strike launched by students at the Andhra University in Visakhaptnam entered its third day, lawyers did not attend courts as a part of their 72-hour boycott in Visakhapatnam and other districts. Some pro-united Andhra outfits have been observing a 72-hour shut down at places like Visakhapatnam.
Educational institutions and commercial establishments remained shut at several places in coastal Andhra and Rayalaseema. Protests were held outside the offices and residences of some public representatives demanding their resignation to mount pressure on the Centre to revoke the decision.
At least three policemen were injured in an attack by agitators in Anantapur town as incidents of stone throwing at government offices and damage to statues of former Prime Ministers Indira Gandhi and Rajiv Gandhi were reported from there on Wednesday.
Statues were vandalised at Proddatur and Kadapa, where agitators tried to attack the district Congress office and two youths attempted self immolation but were stopped by police. Central paramilitary forces and state police have been deployed in sensitive areas to maintain peace and order.
About a dozen Congress MLAs also claimed to have submitted their resignations to the Pradesh Congress Committee chief Botsa Satyanarayana.
The drama in the Congress camp began around 11.30 am when about 14 ministers and some 20 MLAs from Andhra-Rayalaseema regions met the Ministers' Quarters and announced they would quit their posts en masse.
In the evening, however, only 10 MLAs turned up in the assembly to put in their papers. Midway through the meeting at the CM's camp late on Thursday evening, All India Congress Committee observers Thirunavukkarasu and Ramachandra joined them and for a while held an exclusive interaction with the CM and Satyanarayana as the ministers were made to wait outside.
The observers, sources said, made it clear that the high command would brook no rebellion as the decision to divide the state was taken after due and lengthy deliberations and based on the views given by various parties. "If at all anyone has any objections, they could be expressed in the Assembly (when the appropriate resolution on the state bifurcation comes up)," the observers were quoted as saying.
The MLAs who resigned include J C Diwakar Reddy, Gade Venkat Reddy, Daggubati Venkateswara Rao, Venkataramaiah, Murali Krishna, Ugranarasimha Reddy, Bangaru Usharani, K Sudhakar and C Adinarayana Reddy. The MLCs who quit are Mohammed Jani, Rudraraju Padma Raju, Gade Srinivasulu Naidu and Paladugu Venkat Rao.
In his resignation letter addressed to the CM, Ganta said his conscience was not permitting him to continue as a Cabinet minister as the recent developments (over the state's bifurcation) were against the "wishes, sentiments and aspirations" of the people.
"As an ardent supporter and as a representative of people wishing and praying for united Andhra Pradesh, it is very painful to note that the UPA government decided in favour of separating the state into two. I strongly believe that the development is not at all acceptable to the people whom I represent. In view of the developments, I hereby tender my resignation from the Cabinet ministership," he said.


Image: Some of the Andhra ministers who quit over the bifurcation of the state

Photograph: SnapsIndia