The flood situation deteriorated in Assam on Sunday, where the Army was called out for rescue operations as 10 more people were killed and 22.5 lakh affected in 21 districts.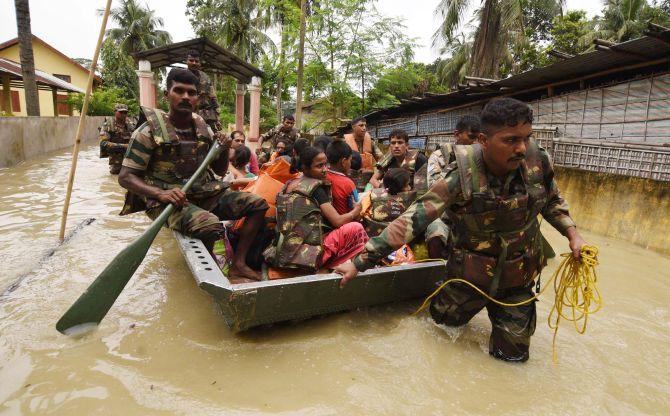 IMAGE: Army soldiers rescuing people from the flood affected village Debasatra at Jokhalabandha in Nagaon district of Assam on Sunday.

Prime Minister Narendra Modi called up Assam Chief Minister Sarbananda Sonowal, who toured various flood-affected areas in Dibrugarh district, an official release said.
'The prime minister expressed concern and assured all possible help and support to the state government in handling the situation,' the statement said.
Sonowal informed Modi about the devastation caused by the flood in middle and upper Assam and the disruption to vehicular movement on National Highway 37, the lifeline between the two areas.
The Army's Red Horns Division of the Gajraj Corps has dispatched multiple teams after receiving calls for help from various district administrations, a defence spokesperson said.
Following Sunday's toll in flood-related incidents, the total number of persons losing their lives in this year's flood-related incidents in the state went up to 99, including eight in Kuwaiti, an Assam State Disaster Management Authority report said.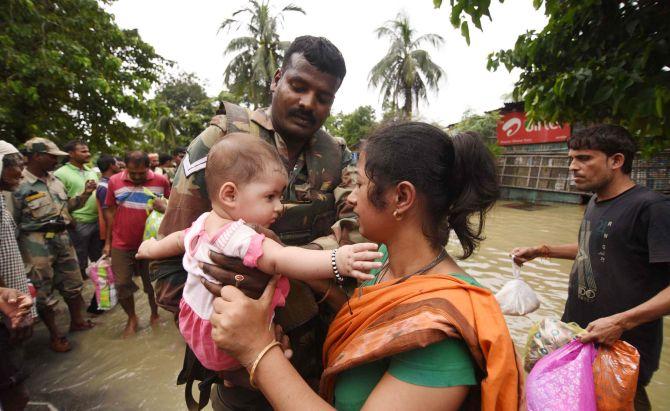 IMAGE: A security personnel holds a child during a rescue operation in flood-hit districts of Assam.

Principal Secretary of Prime Minister's Office Nripendra Mishra asked Assam Chief Secretary V K Pipersenia to submit a report detailing the damage and devastation caused by the current wave of floods in the state.
According to the ASDMA, 10 persons were killed on Sunday in flood-related incidents in three districts.
While six persons lost their lives in Kokrajhar, three died in Bongaigaon and one in Biswanath.
The flood situation is likely to worsen with Brahmaputra and 10 other rivers flowing above the danger mark at 15 places, including the state capital.
At present, 22.5 lakh people are affected in 21 districts, the ASDMA said.
The districts are Dhemaji, Lakhimpur, Biswanath, Sonitpur, Darrang, Baksa, Barpeta, Bongaigaon, Chirang, Kokrajhar, Dhubri, South Salmara, Morigaon, Nagaon, Karbi Anglong, Golaghat, Jorhat, Majuli, Sivasagar, Dibrugarh and Tinsukia.
Nagaon Deputy Commissioner Shamsher Singh said, a crucial dyke at Hatimura was breached by the Brahmaputra at 2 am and its flood waters inundated vast areas of the district.
The authorities have issued an alert in the district with flood waters submerging the NH-37 at four places between Kaliabor and Jakhalabandha, forcing the authorities to stop traffic, thereby cutting the link between upper and middle Assam.
NH 37 passes through Kaziranga National Park. Singh said personnel from the Army, National Disaster Response Force and State Disaster Response Force have been engaged in rescue operations, while people in Nagaon town have resorted to panic purchase of goods from the market.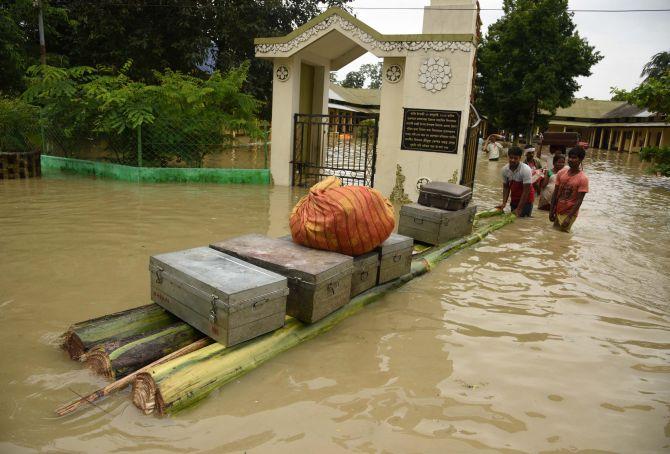 IMAGE: People migrate from the flood-affected areas of Assam.

A defence spokesperson said about 3,000 people have been rescued by the Army from Bodoland Territorial Area Districts and Karbi Anglong.
As per the ASDMA report, Dhubri is the worst-affected with 3.98 lakh sufferers, followed by Morigaon with 3.14 lakh people affected in the deluge.
The condition in Morigaon suddenly worsened after the surging water breached the dyke of Brahmaputra in Lahorighat and flooded more than 100 villages in Lahorighat and Bhuragaon revenue circle, affecting over one lakh people.
Currently, 2,734 villages are under water and over 1.35 lakh hectares of crop areas have been damaged across the state, the ASDMA said.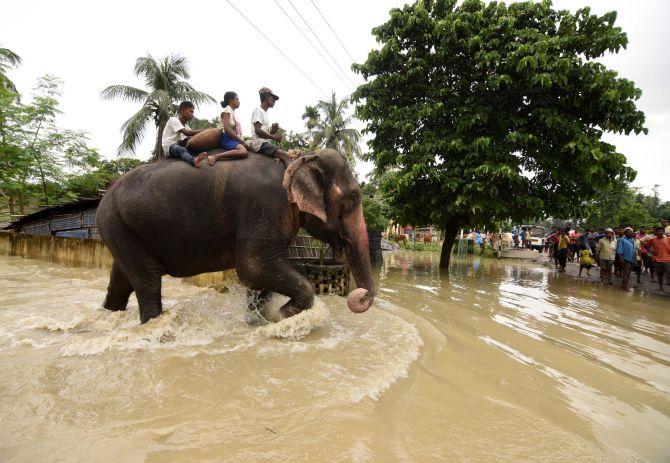 IMAGE: An elephant wades through water as people migrate to safer places in Assam.

Authorities are running 678 relief camps and distribution centres in 17 districts, where 1,83,584 people are taking shelter at present.
At least 4,000 persons have been evacuated to safer places by the SDRF, NDRF and Army personnel in many districts.
The devastating flood has damaged many embankments, roads, bridges and other infrastructures in Dhemaji, Udalguri, Darrang, Nalbari, Barpeta, Kokrajhar, Bongaigaon, Morigaon, Nagaon, Majuli, Golaghat, Charaideo, Chirang, Dhubri, Sivasagar, Jorhat and Biswanath.
Currently, the Brahmaputra is flowing above the danger mark at Guwahati, Nimatighat in Jorhat, Tezpur in Sonitpur, Goalpara and Dhubri towns.
Other rivers like Burhidehing at Khowang in Dibrugarh, Subansiri at Badatighat in Lakhimpur, Dhansiri at Numaligarh in Golaghat, Jia Bharali at NT Road Crossing in Sonitpur, Puthimari at NH Road Crossing in Kamrup, Manas at NH Road Crossing at Barpeta, Beki at Road Bridge in Barpeta, Sankosh at Golokganj in Dhubri, Katakhal at Matizuri in Hailakandi and Kushiyara at Karimganj town are flowing above the danger marks.
NF Railway Chief Public Relations Officer Pranav Jyoti Sharma said, a total of 22 trains have been cancelled, while 14 others are stranded at various places as tracks are flooded at many places across the North East.
Most of the forest areas in Kaziranga National Park, Pobitora Wildlife Sanctuary and Lawkhua wildlife sanctuary are under flood waters.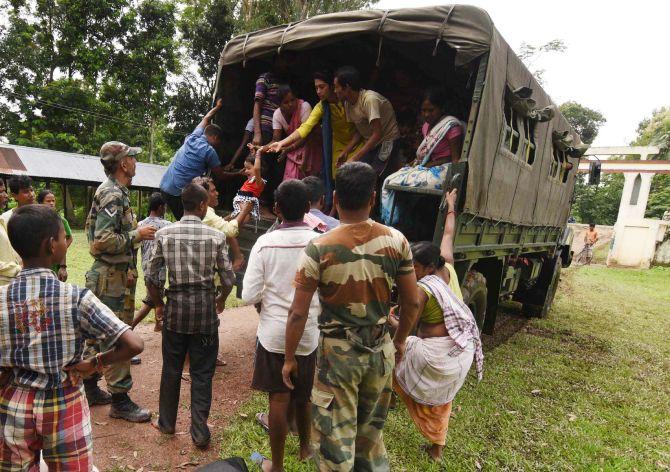 IMAGE: Authorities are running 678 relief camps and distribution centres in 17 districts, where 1,83,584 people are taking shelter at present.

Heavy rains in Bihar, several parts of state flooded
With south west monsoon very active in Bihar, heavy to very heavy rainfall with extremely heavy rainfall occurred at few places in north Bihar.
Heavy ranifall occurred at one or two places in south central parts of the state in the past 24 hours, while light to moderate rainfall was registered at two places in south western parts, met department said on Sunday.
Heavy rains have raised the water level of main rivers and their tributaries and created a flood-like situation in the northern part of the state, where 10 flood rescue teams of the NDRF have been deployed.
Affected districts Supaul, Darbhanga, Muzaffarpur, Betiah, Motihari, Kishanganj, Purnia and Dedarganj are being catered.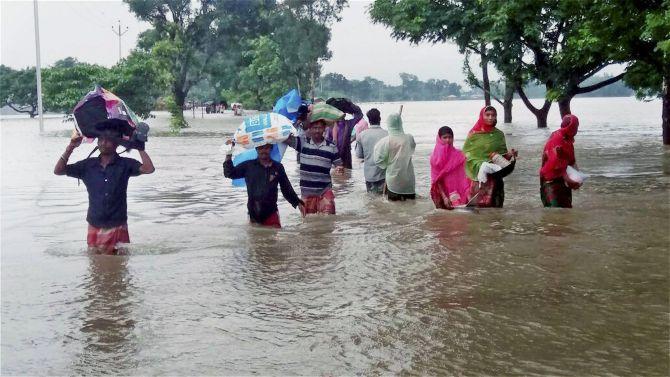 IMAGE: Villagers wade through flood waters in Kishanganj district on Sunday.
Photograph: PTI Photo
Union Home Minister Rajnath Singh on Sunday spoke to Bihar Chief Minister Nitish Kumar and discussed with him the flood situation in the state.
During the telephonic conversation, Kumar briefed Singh about the latest situation in the state.
'The Centre is rushing additional NDRF teams to Bihar to help the ongoing rescue and relief operations in the flood affected region of the state,' Singh said in a tweet.
Kumar informed that due to heavy rain in Nepal and rise in water level in Tapti and Mahananda rivers, north eastern Bihar is flooded.
"Have been taking stock of situation. I have requested for deployment of Army. NDRF and SDRF teams are at work. Have spoken to the PM, Union home minister and defence minister," Kumar said.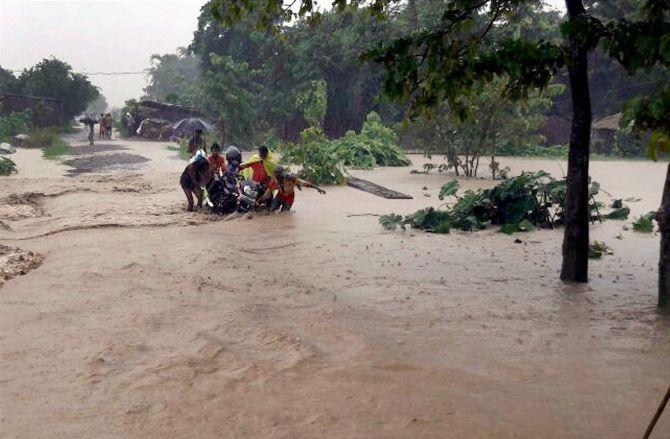 IMAGE: Villagers in a flood-hit area in Katihar district of Bihar on Sunday.
Photograph: PTI Photo
In Himachal Pradesh, two search and rescue teams of the NDRF are operational at the Padhar area in Mandi, in connection with a landslide incident.
One search and rescue team of the NDRF is operational at Village Madarma, Munsyari, Pithoragarh in connection with a landslide incident.
The NDRF Headquarters, New Delhi is closely monitoring the situation and is in touch with other agencies and stakeholders.
The NDRF has even launched a helpline to help victims and survivors connect with the authorities -- 9711077372.
200 Indian tourists among 600 stranded due to Nepal floods
Nearly 600 tourists, including 200 Indians, have been stranded in central Nepal's popular tourist district Chitwan due to flooding triggered by heavy rains that have claimed 49 lives, officials said on Sunday.
Heavy rains have lashed Nepal for the past three days causing flooding and landslides at several places in the Himalayan country.
The swollen Rapti river flooded several hotels in the Chitwan Valley, where the country's first national park is located.
Chief District Officer Narayan Prasad Bhatta said four rubber rafts have been sought from neighbouring Devghat to carry out relief operations.
Suman Ghimire, chairman of the Regional Hotel Association, said the trapped tourists were being rescued with the help of elephants.
The home ministry has been approached for help, said a hotelier.
The meteorological department forecast that central and western plains were likely to receive heavy rainfall from on Sunday evening.
The monsoon, it added, was gradually getting weaker in the eastern region and moving towards the western region.
The death toll due to flooding and landslides across Nepal since Friday reached 49, officials said.
With ANI inputs