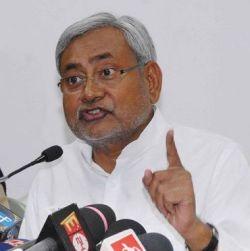 Trying to reach out to migrants, Bihar Chief Minister Nitish Kumar on Sunday said there are two Delhis -- one for the rich and the other for the poor -- and it is the people of Bihar and Purvanchal who helped build the city.

At an election rally in the national capital, Kumar said, "There is one area of Delhi, which shines, that has high rises with affluent people. The second is a bigger area where there is no drinking water, road, no electricity or sewerage system. There are two Delhis. One is for the rich and second is for the poor. We have come to build this Delhi of the poor people. Now that we have come we will help build this city."

"Many people have an issue over the people from Bihar, Purvanchal and other places coming to the city. We do not need any passport to come here. This our capital and we can come here anytime," Kumar said. He stated that if the people from Bihar and Purvanchal stop working, Delhi will stop functioning.
"Many people feel that we are a liability, but we are not ...we work hard. If people from Bihar and Purvanchal stop working then who will work, who will make the flyovers and high rises. Delhi would not function if these people stop working."

Noting that the migration of people from Bihar to places like Punjab and Delhi has come down, he wondered as to where would people go who have already settled here.

The Bihar chief minister is on a two-day visit to Delhi. He addressed election rallies in Dwarka, Sangam Vihar and Okhla on Saturday and held meetings in Kiradi Burari on Sunday.
Polling for the 70-member Delhi assembly will be held on Wednesday.