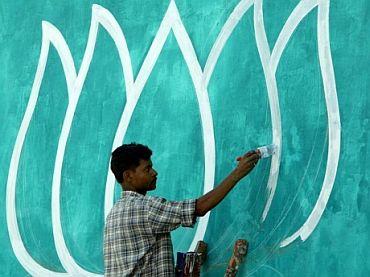 The Bharatiya Janata party on Tuesday promised to reduce power tariff by 30 per cent, combat inflation by lowering vegetable prices, and increase number of subsidised LPG cylinders to twelve in its assembly election manifesto released in New Delhi.
Nearly five days after the Aam Admi Party and the ruling Congress spelt out their poll promises, the top brass of the BJP including Leaders of the Opposition in Rajya Sabha and Lok Sabha, Arun Jaitley and Sushma Swaraj, former BJP chief Nitin Gadkari, and party's chief ministerial candidate Harsh Vardhan released the manifesto for December 4 elections on Tuesday.
Vardhan said once the BJP is voted to power, his government would work toward full statehood for Delhi, as many development projects hang in limbo because the national capital does not have a right on the use of land.
The party had invited suggestions from people of Delhi. Vardhan said, "we witnessed their active participation and received a valuable suggestion through emails, letters and we have tried to incorporate them in the manifesto."
The party's chief ministerial nominee said that the BJP aims to make Delhi a power surplus state.
"We would reduce the power tariff by 30 per cent by promoting competition among the distribution companies and bringing them under the Comptroller and Auditor General audit and Right To Information. Our government would promote solar power and make every house a power house, which was neglected during the 15 years of Sheila Dikshit government," Vardhan said.
He said tax holiday of 10 years would be given to the manufacturers of solar energy equipment. The party vowed to provide safe drinking water, modernise the distribution system and focus on recycling of water. It promised to make the existing sewage system efficient and environment friendly with the use of latest technology.
Emphasising on taking steps for safety of women, the BJP said 24 hours call centres and a dedicated 'Women Security Force' would be set up under the direct supervision of the chief minister.
The party promised to construct more hostels for working women and set up fast track courts for speedy trial in cases of violence against women. To ensure good governance, the party would promote e-governance to ensure transparent, responsive and corruption free administration, and form accountability commission to ensure efficient use of public money.
The institution of Lokayukta would be made effective with sufficient powers and helplines would be set up for reporting corruption cases, public grievance cell shall be established in government offices for redressal of grievances in a time bound manner.
The BJP also promises to provide health facilities to all with the launch of universal health insurance at the premium of Rs 6 per day and set up trauma centres in all districts.
If voted to power, it also plans to re-implement Essential Drugs Policy, under which medicines of 25 types would be provided free of cost to every Delhi citizen and take steps to bring down infant mortality rate from 28 to 15 per thousand.
Vardhan claimed that the ruling Congress neglected the youth during its regime, due to which only 11 lakh youth have been registered in employment exchange in Delhi.
To facilitate employment generation opportunities for the youth, the BJP government would constitute "Atal Yuwa Mission" to set up IT zones in Nazafgarh, Narela and Bijwasan, and also provide training for drivers and domestic helps, he said.
The party said it would promote women entrepreneurs and provide working capital from Delhi Finance Corporation to help them sustain their business.
To simplify and rationalise the VAT, registered dealers would be provided with accidental insurance cover of Rs four lakh, those willing to start cottage industry would be encouraged and trade board would be formed to resolve all trade related issues, Vardhan said.
Vardhan accused the Congress of "cheating" the poor in the name of 'Rajiv Ratan Awas Yojna' five years ago, and said the BJP would ensure in situ construction of multi-storied houses for jhuggi dwellers under its 'Atal Bihari Vajpayee Jan Punarwas yojna'.
The party also assured regularisation of all unauthorised colonies and developed as DDA colonies for which layout fund would be provided by the government. Vardhan said his government would work for full statehood of Delhi, as many development projects hang in limbo because Delhi does not have the right on use of land.
With a view to promote bicycle culture in Delhi, the government would make provision for cycle and pedestrian lanes on roads, the chief ministerial candidate said, adding a centralised traffic plan would be prepared for providing relief from traffic jams.
Vardhan said that the BJP government would ask the Centre for early completion of Western and Eastern Express Highways. The manifesto states the party would implement long awaited mono rail, which would be complimentary with the Delhi Metro, to ensure all areas of the capital are covered by it.
It also said a master parking plan would be formulated to address the problem of shortage of parking space. Multi-level underground parking and four big truck-bus terminals would be provided in the peripheral areas of Delhi for parking of trucks and buses.
The party vowed to give ownership rights to landless labourers in villages, expand Lal Dora, amend Section 81 and 33 of Land Reforms Act to regularise unauthorised colonies beyond urban village.
It said ban on new tube wells would be lifted, resume chakbandi of agriculture land and complete it and farmers of Yamuna Khadar would not be vacated.
Under the social welfare schemes, Vardhan said his government would increase the pension of elderly, physically challenged, widows and destitute women from current Rs 1,000 to Rs 1,500 and for those over 70 years, Rs 1,500 to Rs 2,000.
Also a Senior Citizen Commission would be set up to address their concerns and Migrants Commission to address the welfare of large number of migrants settled in Delhi.