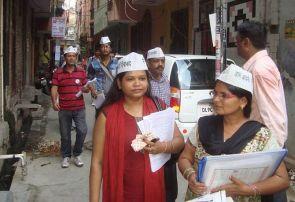 The Aam Aadmi Party office in Delhi has been seeing a steady flow of volunteers offering their services to the party free of cost.
You can call it the Kejrwal effect as the Aam Aadmi Party in Delhi is attracting many volunteers and freelancers from all over the country. Each day someone from Bengaluru, Kolkata or Ahmedabad reaches AAP's Hanuman Road office in New Delhi offering free service.
Software engineer Ankush Singh from Bengaluru has taken leave from work till December 5 to work for AAP in the Delhi assembly polls.
Chartered Accountant Sanay Gupta says that many CAs have offered their services free of cost to AAP.
When Pramod Pandurag came from railway station, he did not even know the way to the AAP office. An auto rickshawwallah proudly displaying the 'Jhadu' banner took him to AAP's office charging a "fair fare" of Rs 30. Pramod is busy campaigning for the AAP now.
For AAP leaders Arvind Kejriwal, Manish Sisodhia, Sanjay Singh, Shazia Ilmi and others, it a shot in the arm.