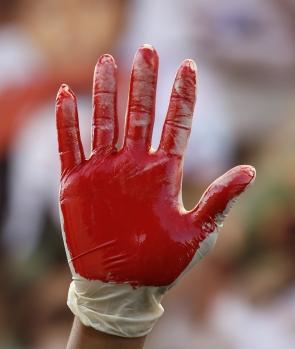 Sri Lanka President Mahinda Rajapaksa has debunked international criticism over the treatment of the island nation's Tamil minority population.
"The war was not against the Tamils. We only fought a brutal terrorist outfit that was the LTTE (Liberation Tigers of Tamil Eelam)," the president told a political gathering in the southern district of Galle on Wednesday.
"If our war was against Tamils, how could Tamils live happily and peacefully among the Sinhalese in the south of the country," Rajapaksa quipped.
Responding to accusations -- that his government had promoted a culture of impunity for those who attack the island's religious minorities, more particularly Muslims -- Rajapaksa said religious harmony and reconciliation was visible throughout the country.
"I am aware that some non governmental organisations, with foreign help, are trying to show there is religious disharmony," Rajapaksa stressed.
The remark was a reference to his predecessor Chandrika Kumaratunga's meeting with his main rival Ranil Wickremesinghe this week.
Kumaratunga heads an NGO which promotes religious harmony.
All these are attempts to embarrass the government during the United Nations Human Rights Council meeting, the president said.
Attacks against religious minorities is an issue of concern as the next UNHRC resolution on Sri Lanka is to be put to vote in Geneva in the next two weeks.
The UNHRC is certain to adopt another adverse resolution later in March in Geneva -- censuring Sri Lanka on its lack of progress on human rights accountability and reconciliation with its Tamil minority -- after the civil war ended with the defeat of the LTTE.
India had backed the previous two resolutions.
The resolution, moved by the United States, is expected to prompt an international investigation into alleged human rights abuses and crimes against humanity during the last phase of the military conflict.
Image: A Tamil demonstrator holds up a hand, with a glove covered in fake blood, during a protest against the Sri Lankan government ' Photograph: Reuters