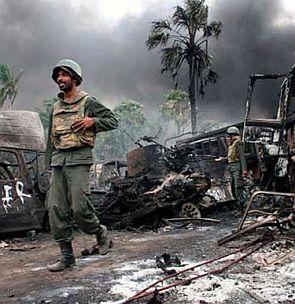 As many as 16,000 Sri Lankans -- who disappeared during the war against the Liberation Tigers of Tamil Eelam -- will be issued certificates of absence instead of death certificates, head of a probe panel said on Wednesday.
"We have held discussions on the possibility of issuing certificates of absence in place of the current practice of issuing death certificates," said Maxwell Paranagama, a
retired judge and the head of the government's 3-member panel looking at disappearances of people from the north and east conflict zones.
The kith and kin of the disappeared do not want to believe they have died. So, issuing a death certificate would hurt them, Paranagama said. He said the certificates of absence would have the same capacity as death certificates for legal purposes and the relevant laws have to be amended to give legal recognition to the absence certificates.
Paranagama and his panel was appointed by Sri Lanka President Mahinda Rajapaksa in August last year to look at all disappearances of individuals between 1990 and 2009.
Till February, Paranagama's panel had received 16,000 complaints of disappearances of individuals. The panel's figures tallied with those of the local International Committee of the Red Cross. Among the ICRC's figure of 16,000, disappearances of 4,500 members of government troops have been reported.
Both the LTTE and the government troops were accused of carrying out abductions of individuals during the conflict.
Sri Lanka has resisted repeated calls for an international probe into allegations that nearly 40,000 civilians were killed by government forces during the quarter-century civil war against the LTTE that ended in 2009.