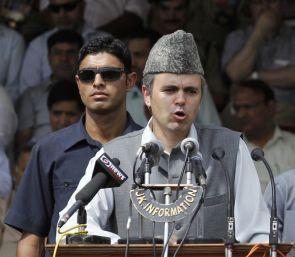 Chief Minister Omar Abdullah on Saturday said he was not going to dilute the status of Jammu and Kashmir by "automatically implementing" all central acts and amendments.
"I am not going to dilute the status of Jammu and Kashmir y automatically implementing them (central laws and amendments)," Omar told reporters in reply to a question about the demand of his party's ally Congress to implement the 73rd constitutional amendment on panchayati raj institutions.
"We do not need to take on board automatically all those amendments which are made in New Delhi without considering which are beneficial to us or not," he said, "We have always maintain that one of the advantage Jammu and Kashmir has is that we have our own constitution."
The Congress leadership, including party vice president Rahul Gandhi and Union minister Ghulam Nabi Azad, has been strongly batting for implementation of the 73rd amendment in Jammu and Kashmir. Even Youth Congress activists had held demonstrations against the chief minister in the past.
Omar, however, said, "They are not being unreasonable. They are not saying that you have to make the 73rd amendment applicable to Jammu and Kashmir."
"They are saying that you modify the Panchayati Raj Act to bring those provisions in the 73rd amendment beneficial to the people of Jammu and Kashmir in which NC has actually no objection," the chief minister said.
"We are convinced about the provisions of the 73rd amendment which is beneficial for the state. We have already included some provisions like finance commission and election commission," he said.
"The bill in this direction is ready. It will be brought in the next cabinet meeting before the Assembly session. In the Assembly, these amendments will be passed and it will further strengthen the Panchayati Raj System in the state," he added.
"I will disagree with you with regard to creation of strong Panchayati Raj System. The first tier is very strong. We will bring amendments to the Panchayati Raj Act in the upcoming Assembly session to make it more vibrant and bring it at par with those amendments which are introduced in the 73th amendment which do not find place in our panchayati raj act to strengthen the democracy at grassroots level," Omar said.
"We hope to have elections to the second and third tiers. We have a heavy schedule of parliament and Assembly but we have to decided how to go about it," he said.
"We have a very strong elected representative at the grassroots level. We have already functional blocks and niabats. This is not something new has been created. They are already there," he added.
"What we are doing is reducing the pressure on old units by widening the base and creating such more units as per geographical distances and quantum of population," he said.
"Every new creation (with regard to new administrative units), there is a financial involvement there. It is nobody's claim that there would be no financial involvements in it but you have to see what are the gains and losses in it," he said.
On pre-poll alliance, he said the coalition is strong and working well. "This coalition withstands difficulties and comes out of them from time to time. It is premature to say on pre-poll alliance," he said.
"It is left to the respective high commands of the two parties. NC's working committee has authorised its president to take a decision appropriate for the party," he added.
He said that the NC-Congress alliance has reiterated time and again that "we see the coalition government running to the last day of its tenure".
On the issue of corruption, he said, "We have taken one more major decision in today's cabinet to amend our Prevention of Corruption Act to further strengthen it."
"We are taking all necessary steps to strengthen the Accountability Commission, the Vigilance Commission, and to modify the Prevention of Corruption Act to make it stronger. We have already introduced the Right to Information (RTI) Act," he said.