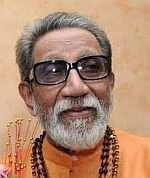 Shiv Sena supremo Bal Thackeray, who has been critically ill for the last few days, was a little better now and recovering slowly, senior party leader Manohar Joshi said on Saturday.
Emerging from 'Matoshree', the Thackeray residence in suburban Bandra Sunday morning, Joshi said: "We cannot say that he is recovering fast. It is a slow recovery, but he is slightly better now."
As many as 75 local corporators of Sena have also called on 'Matoshree' on Saturday to inquire about Thackeray's health.
Party sources said that Thackeray's son and executive president of Shiv Sena Uddhav Thackeray was "tense and tired", and he was not likely to meet the Sena workers standing outside the residence. Uddhav had addressed the workers on Thursday night.
The security outside the Thackeray residence continues in view of the crowds.
Earlier, Sena mouthpiece 'Saamna' said that "Thackeray is recovering and there is no need to worry. Our warrior is fighting.
"Doctors have also assured that the Chief is recovering. His pulse rate, heart beats and blood pressure is normal. He has 98 per cent oxygen in his blood. We hope and pray that the Sena chief continues to respond well to the treatment."
Thackeray is being treated by doctors from Lilavati Hospital -- Jaleel Parkar, Prakash Jindani and Samad Ansari – with assistance from Sena MLA Dr Deepak Sawant. No medical bulletin is issued, but Sena leaders brief the media daily.
The condition of the 86-year-old Sena patriarch worsened on Wednesday night when he had to be put on life support. He was taken off life support later after showing signs of improvement.
Meanwhile, MP and leader of Swabhimani Shetkari Sanghtana Raju Shetty, who was released from Yerwada jail in Pune Saturday on bail following his arrest during the farmers' agitation for higher sugarcane prices, visited 'Matoshree' today.
Shetty said it was his duty to come and meet Thackeray. "Balasaheb is recovering fine," he told reporters.
Jain spiritual leader Acharya Sagarchandra Jain Muni came to Matoshree barefoot, walking from Mulund, about 35 km away.
"We met Smita Thackeray (Thackeray's daughter-in-law). She said Thackeray is fine and recovering," he said.
NCP leader Nawab Mallik also visited the ailing leader.