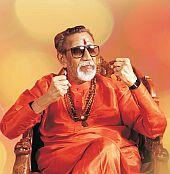 "We are hopeful. You be hopeful. Let's pray." This is what Bal Thackeray's son Uddhav said to people who assembled outside the ailing Shiv Sena patriarch's residence Matoshree in suburban Bandra past midnight.
"Balasaheb has a strong willpower. We'll come out from the problem. Don't trust rumours. Make peace," Uddhav, accompanied by son Aditya, said.
Later, Uddhav -- through a senior party colleague -- issued an appeal to all party activists to "remain calm" and said treatment was continuing on the ailing leader.
Doctors treating the Sena leader had said that 86-year-old Thackeray was in a "very critical" condition and on life support system.