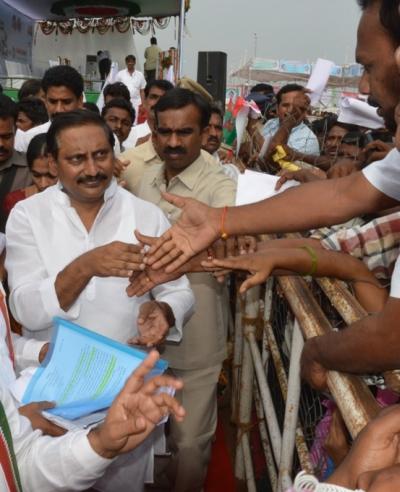 Andhra Pradesh Chief Minister Kiran Kumar Reddy on Monday warned that the bifurcation of Andhra Pradesh will spawn a host of problems, including political instability, the Naxal threat, terrorism and communal violence.
Reddy appealed to the wisdom of the decision-makers at the national level and urged them not to split the state.
Reddy rolled out facts and figures to dissuade the Group of Ministers constituted for the bifurcation of the state.
Reddy argued for an united Andhra Pradesh by focussing on the speeches of Manmohan Singh on left-wing extremism, where the prime minister has said that Naxalism is the single biggest internal security challenge faced by India.
Making a presentation on the issues of internal security before the Group of Ministers, Reddy warned that political instability coupled with limited resources of law enforcement, on account of Telangana, will have serious implications while countering the threat of Naxal extremism and communal violence.
The re-emergence of Naxal violence in Telangana will automatically lead to an increase in left-wing extremism in the residual state of Andhra Pradesh.
The law and order situation in Hyderabad city will be jeopardised on a regular basis, argued Reddy.
The division of the state will have dangerous implications for the safety and security of the people of both the new states, and especially for the people of Hyderabad City, said Reddy.
The division of the state is not recommended in the overall interest of the safety and security needs of people of both states, argued Reddy.
Read Kiran Kumar Reddy's presentation right here!
Image: Andhra Pradesh Chief Minister Kiran Kumar Reddy
Photograph: SnapsIndia